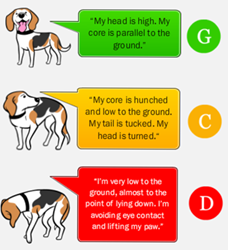 Mary Margaret Callahan, Sr. National Director, Program Development says: "Whether interested in therapy work or just want to understand your four-legged friend better there is great information in the course. Simple and effective ways of identifyin
Bellevue, WA (PRWEB) March 15, 2016
If only dogs could talk. If only it was possible to tell what they think and feel. Pet Partners, the leading national therapy animal organization, has launched a new Canine Body Language course.
It is designed to help dog owners understand the signals and signs our canine companions give in order to show changes in how they are feeling and what they are trying to tell us.
Topics covered include the fact that a tail wag is not always a friendly gesture from a canine; how to understand through the position of dog's back legs, their head and paw that they are displaying signs of fear, stress or anxiety. There are also six different positions of the tail that are crucial in helping to understand what your dog is feeling.
By developing a greater understanding of reading signs and signals in different circumstances a stronger relationship can be built with your dog. Whether at home, the dog park or on a therapy visit, Pet Partners wants to help all dog owners advocate for their animals by understanding them and what they are trying to tell us.
Therapy animals are often exposed to many different situations as they work with patients in hospitals, reading programs in schools, hospice visits and many other kinds of facilities. It is essential that handlers can accurately read their dog's body language and respond accordingly. These skills are now available to all dog owners through the Pet Partners course.
Loud noises, overly vigorous petting and tiredness are among the many factors that can impact how a dog feels, but a knowledgeable handler uses techniques addressed in this course to calm and center their dog ensuring a safe and effective experience for everyone involved.
The online course takes around 1.5 hours to complete and is fully interactive with scenarios that test reactions and spot the "tells" that a dog can show. Techniques to deal with these behaviors are also covered.
The course costs $20 for registered Pet Partners handlers and $45 to members of the public. Anyone interested can visit the Pet Partners website to take part or find out more about the work of Pet Partners.
The new Canine Body Language course was made possible by support from corporate sponsor PetSmart.