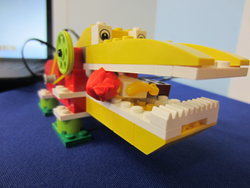 Millburn, NJ & Montclair, NJ (PRWEB) March 15, 2016
Millburn's ever-popular, local eatery, Tinga Tanqueria, teams up with L3 Academy to offer LEGO® and engineering-focused birthday parties for children, ages 5 to 11.
A seriously fun STEM learning and unique birthday party provider, L3 Academy will host the following parties at Tinga's Millburn location:

LEGO® Robotics: Party goers, ages 6 to 11, will enjoy building structures using gears, axles, connectors, wheels and racks before programming it to move, make sounds or respond to stimulus such as motion.
Jr. Engineers: Filled with engineering challenges and a final challenge to build the fastest LEGO® racing car, our young engineers work with larger-sized gears, axles, connects and pulley systems.
Bot Birthday Bash: Create and decorate your own mini "bot" before your child names and adopts the bot. What type of "bot" do you have? Where does "bot" live?
"What's better than mixing good times with great food for a memorable experience," said David Fishman, owner, Tinga Tanqueria. "Along with our wonderful Millburn residents, our location is centrally located for families in Maplewood, Summit, Westfield and Livingston."
"Tinga's passion for delivering the highest quality food and service equaled ours for STEM-related, children's activities," said Kim McGuire, co-owner, L3 Academy. "It seemed like a natural fit for both of us and a real win-win for families seeking STEM parties."
"L3 was founded on the principle that learning is fun and, if children learn this early enough, they will continue to pursue their passions, whatever those may be," said Yin Chang, co-owner, L3 Academy. "We want to be able to pass along that lesson by any means possible – through classes, birthday parties or even just in our daily interactions with kids and parents passing through. If we can fan that spark of curiosity into something more, it gives us a great feeling to have helped."
For more information, click here.
About L3 Academy
L3 Academy is a seriously fun STEM learning center and unique birthday party provider. Entering its third year, L3 delivers hands-on experiences in science, technology, engineering, and math (STEM) through its birthday parties, classes and in-school enrichment programs. For more information, contact us at 973-783-8333 or Info(at)L3-Academy(dot)com.