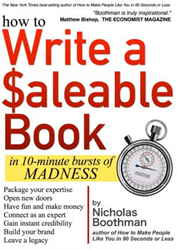 Master the five steps to writing a book that actually sells.
(PRWEB) March 15, 2016
Today, 'How to Write a Saleable Book' by author and speaker, Nicholas Boothman, launches through Next Century Publishing.
In his new book, 'How to Write a Saleable Book', Nick Boothman teaches readers how to write a book that sells in 10-minute bursts of madness. Throughout the book, readers will learn the skill of "Writing Madly" and master the five steps to writing a self-help book that actually sells, with Nicholas Boothman - an author who's done it over and over. By embarking on these steps in the right order any reader can learn to write and will watch as their book begins to fly off the shelves.
"Boothman is truly inspirational." – Matthew Bishop, THE ECONOMIST MAGAZINE
For more information on "How to Write a Saleable Book" and where it can be purchased, be sure to visit any of these fine retailers: Amazon, Barnes & Noble, and Reader's Legacy
Nicholas Boothman: Nicholas Boothman is an internationally recognized expert in face-to-face communication and is the author of several books including 'How to Make People like You in 90 Seconds or Less' and 'How to Connect in Business in 90 Seconds or Less'. A former international fashion and advertising photographer, Nicholas Boothman's work has appeared in publications ranging from Vogue to National Geographic. His books have been translated into more than thirty languages around the world. Today he travels the world over 100 days a year giving speeches and workshops.
Next Century Publishing (NCP): NCP is a hybrid publishing company that has carved out a niche by offering a wide variety of publishing services to its clients. At NCP, an author's needs are assessed and the right publishing platform is suggested based on those desires. From simple E-book publishing to traditional trade publishing, NCP does it all. NCP's revenues have grown by over 200% in each of the past 3 years. With offices in Las Vegas, Toronto and Panama, the company is now prepared for another triple digit growth year.
Media bookings: Carolyn Branson (702)912-2405 Carolyn(at)NextCenturyPublishing(dot)com