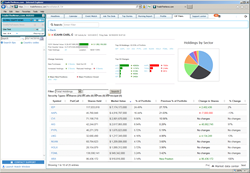 The new 13F Radar tools will automate many daily tasks of the Institutional Sales Trader leading to time savings and an increase in the ability to reach out to high-touch clients.
New York City, NY (PRWEB) March 16, 2016
TradeTheNews.com proudly announces the launch of our new 13F Radar Package suite of products. Premium Equities News Squawk subscribers will now be able to search, analyze and create portfolios via 13F Filings. Subscribers will also now receive daily Custom Morning Reports for these interest lists and will enjoy the convenience of the individual stock names being updated automatically every quarter. Further benefits include the ability to see top holders of each stock in the "13F Holders" Tab, combined with quarter over quarter portfolio analysis to find and identify trends in stocks, sectors and the overall market. Complex searching functionality built into the platform will further highlight sector & stock moves, allowing for a deeper analysis of not only what's moving but why. Sales traders in particular should be excited about the 13F Radar suite of products as these new tools will automate many daily tasks leading to time savings and an increase in the ability to reach out to high-touch clients.
Below is the complete list of new features now available in the new 13F Radar Package

Search, Follow and Create Portfolios via 13F Filings
In-depth Quarter Over Quarter Analysis of Filers
Color Code Headlines giving insight into Strategies in real-time
See Top Holders of any given Security including Calls and Puts
Sort Earnings and Conference Calls Calendars by 13F tickers
Filter Headlines by Holder Report
Receive Custom Morning Email Reports by Filer Interest List
What are 13F Filings?
An institutional investment manager with assets under management of at least $100 million must report its holdings on a quarterly basis via the Form 13F with the Securities and Exchange Commission (SEC). Institutional investment managers can include investment advisers, banks, insurance companies, broker-dealers, pension funds, and corporations.
Why is this Helpful to An Individual Investor?
Individual investors can research and follow hedge funds strategies to see what is and isn't working for the big dogs of Wall Street. In addition, the 13F Radar product suite will allow subscribers to overlay news, market sentiment and investor positions to provide insights on where your smart money can go.
How can Institutional Sales Traders Benefit from the 13F Radar?
Institutional Sales Desks can easily search and follow the interest lists of hedge funds they service. Create custom morning reports, conference call and earnings calendars for high touch clients. No more stock bingo - sales desks can throw the sheets away on their desk. The TradeTheNews.com headline stream instantly alerts when a client has an interest in a headline.
What is TradeTheNews.com?
TradeTheNews.com's squawk broadcast channel, similar to an air traffic controller in your ear, includes everything you need to know to make profitable trades: stock chatter, earnings releases, company conferences, economic numbers, interest rate decisions, central banker speak, terror incidents, market moving rumors and the facts that contextualize them - INSTANTLY. Simply put, TradeTheNews.com provides a steady pulse of the markets and the news that triggers the trades, all second by second via scrolling headlines and audio squawk for equity, sector, sales, derivatives, corporate credit and options traders.