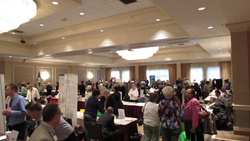 Akron, OH (PRWEB) March 15, 2016
Mature Services' Employment & Training Solutions is hosting its 26th Annual Mature Workers' Job & Career Fair, an event created to help the 40 and older population find employment. The annual event will be held on April 12th from 10:00 a.m. until 2:00 p.m., at the Akron Fairlawn Hilton, located at 3180 W. Market St. in Akron.
"Employers get to meet job candidates face-to-face, which is an important part of the hiring process," said Paul Magnus, Vice President of Workforce Development for Mature Services. The Mature Workers' Job and Career Fair offers opportunities for mature workers to meet and interview employers specifically interested in recruiting mature workers. It also provides employers the opportunity to recruit mature candidates in person and tap a new pool of applicants with extensive experience, skills and work ethic.
In addition to Mature Services, Inc., co-sponsors of the fair include the Akron Beacon Journal, Albrecht Incorporated, Ohio Means Jobs/Summit County, Print 2 Promote, Signet Jewelers, and Universal Screen Arts, Inc. So far, 21 employers have registered to attend the job fair, with more to come!
Job seekers can attend three free workshops: How to Navigate the Job Fair for Success; Online Applications and Secrets to Successful Job Search; and Job Search and Social Media for Success. Other services available at the fair include resume assistance, copier service, and a computer application station. Parking and admission are free.
"Each year employers come to this job fair because they value mature workers and recognize the contribution they can make," said Don Zirkle, Mature Services Training and Placement Supervisor. "Older workers bring to the job commitment, experience and the ability to work as part of a team," he added, "and today's mature worker has adapted to technology as well. These are traits that all employers are looking for in a new hire."
Companies interested in registering for a booth can contact Don Zirkle at 330-762-8666 x174 or go online at http://www.matureservices.org/jobfair/akronfair16employer.php.
Mature Services, Inc. is an equal opportunity employer and service provider. Programs include employment and training services, addiction and recovery, mental health counseling, nutrition, and home care.
To learn more about Mature Services programs, visit http://www.matureservices.org.