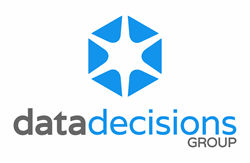 Data Decisions Group will offer a "system of insights" for marketing decisions.
Dallas, TX (PRWEB) March 16, 2016
Data Decisions Group will offer a "system of insights" for marketing decisions. This data-driven approach insures a better outcome for the marketing firm against any benchmark: response rate, average order, customer engagement and churn ratio.
FGI Research & Analytics (FGI) and Web Decisions Group (WDG) have merged to provide the foundation for this enterprise.
Mike Hail, CEO of WDG will assume the same role at Data Decisions Group.
"Since the 80's I have been seeking to provide marketers with better decision points by applying analytics to data, internal and external. Dr. Steve Lerner took the path of utilizing market research to offer strategic guidance to the Fortune 1000. Previously, Steve and I built components for the system at Knowledgebase Marketing, Kestnbaum & Associates, and Yankelovich. I am thrilled that we will finally be able to offer a complete solution to our clients."
Data Decisions Group will offer data, insight and marketing action.

Consumer data and lists
Hosted record for the single view of the consumer
Customer panels and insight communities
Research and analytics—segmentation, descriptive, predictive
Omnichannel software to manage all touchpoints
Automated processes connecting APIs for specific applications, including cloud marketing apps
"As domain expertise is a requirement for successful implementation of any marketing system, I am proud that experienced individuals have agreed to engage with our customers."

David Wilson, CEO of FGI, will serve as President & COO. Wilson is a pioneer in the use of customer data, marketing research, and predictive analytics for marketing advantage.
David Schneider will serve as EVP, Business Development. Schneider is the top industry expert in external data application for marketing.
Dino Fire will serve as Chief Science Office. Fire is a leader in the use of data and applied analytics for marketing.
http://www.datadecisionsgroup.com
Contact:
Whitney Hamilton
Marketing Communications Manager
Whitney(dot)Hamilton(at)datadecisionsgroup(dot)com
469.804.3689
12720 Hillcrest Road
Suite 615
Dallas, Texas
75230