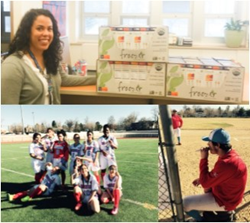 "There is nothing better than to give back to communities we work and live in." -- Des Hague, newly elected Froozer® Chairman of the Board.
Denver, CO (PRWEB) March 16, 2016
Des Hague, recently elected Froozer® Chairman of the Board, and Froozer® CEO, Rich Naha, are delighted to support the students of the Denver Public School district with a donation of thousands of Froozer® frozen smoothie sticks (http://www.froozer.com) to Manual High School (http://manualhs.org/) over the next few months. The first Froozer® shipment was delivered last week.
"Thanks to Froozer's generous donation, Manual students now have access to healthy, nutritious snacks during out of school time activities and student testing," said Shaunay Vfeades, Regional Coordinator, Office of Family and Community Engagement (FACE), Denver Public Schools at Manual High School - Denver, CO. "We are delighted," concluded Vfeades.
Students will be rewarded with the donated Froozer® frozen smoothie sticks at various school sporting events as well as at school affiliated YMCA training sessions and events. In addition, donated Froozer® sticks will distributed at various events put on by Americorps, such as Fairview Elementary Family Literacy Night - March 16, Cesar Chavez Day of Recognition at Columbian Elementary School - March 25 and Greenlee Elementary Family Literacy Night - April 14.
As part of this sponsorship, Froozer® will also be the snack of choice at 9Health Fair at College View Elementary, 2675 South Decatur St., Denver, CO - April 16, 7:00AM - 12:00P. http://www.9healthfair.org/ for information and to register.
Another Froozer® sponsored event is the Med School at Manual's Spring Blood Drive, March 24th, 8 AM - 9:40 AM and 11 AM - 1:30 PM, held at Manual's Thunderdome Gym; to schedule an appointment, contact – Christina Maples, 720-423-6344. Froozer® will be handed out to blood donors instead of the usual juice and cookies.
"There is nothing better than to give back to communities we work and live in. It is something I have been passionate about for years and I am glad we get to support another great local cause," said Hague. "Ultimately, we can all make a difference in people's lives. We just have to care enough about it to do something," concluded Hague.
"We are passionate about giving back in the communities that have supported Froozer®," said Naha. "I live near Manual High School and my kids play little league sports on the campus. We are very proud of this relationship."
About Froozer® - "simple ingredients. real nutrition.™"
Froozer® products represent the pure goodness of freshly harvested fruits & veggies picked at the peak of their ripeness, flash-frozen whole and blended for optimal taste, nutrition and digestion. Natural fruits and veggies in all their glory, nothing added or subtracted, not even a drop of water. Available in three delicious flavors - STRAWBANANA BLISS, TROPICAL SUNSET and BLUE ALOHA - in 6-pack boxes. Look for Froozer® in your local grocery store freezer at selected retail locations in the Denver Area including WholeFoods and Alfalfa's, and various select retailers in Alaska, Arizona, California, Oregon and Washington State, or have Froozer® delivered directly to your door - http://www.froozer.com.
For more information: http://froozer.com/
Contact: Rich Naha, CEO, Froozer®
Phone:303-246-1957, Rnaha(at)Froozer(dot)com
About Des Hague
A renowned executive with over twenty-five years of leading global public and private companies, Des Hague has established himself as an innovative thinker in the international business world. His forward-thinking approach pushes companies toward sustainable growth, granting them a position as resilient competitors within their respective industries. Hague most recently was the CEO and President of Centerplate, Inc, the largest event hospitality firm in North America. source: http://deshague.com. Hague also serves on the boards of DVETelepresence, PING HD, WC&P, Froozer® and the Stamford Youth Foundation, along with advising on several start-up ventures.
Along with his professional projects, Des Hague contributes significant amounts of time and energy to non-profit charitable work. Hague has helped raise more than $100 million over the past few years for many non-profits, including the Stamford Youth Foundation, a local organization offering multiple after-school programs for young people, and The Journey Home, a Baltimore-based Foundation fighting homelessness. Hague views Aegis Enterprises, LLC. as a perfect blending of business and philanthropic activities.
For more about Des Hague, visit: http://deshague.com, http://deshaguereviews.com
Des Hague - LinkedIn : https://www.linkedin.com/in/deshague
Contact:
DesHague.com
EMail: deshague(at)aegisenterprisesllc(dot)com