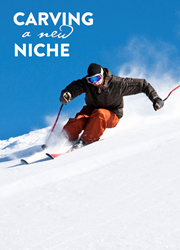 We couldn't help but find a way to get them exactly what they were looking for and to pioneer this half share opportunity
Steamboat Springs, Colorado (PRWEB) March 15, 2016
The Porches of Steamboat, a neighborhood of spacious luxury townhomes located in the base area of the ski mountain in Steamboat Springs, CO, released their newest ownership opportunity to the public yesterday. Half shares are now available for those wanting to spend more time in this popular four-seasons resort in Colorado.
"We have listened to our owners and our guests," said Porches founder Bruce Shugart, "and they told us how much they enjoy their time at The Porches and always find themselves wanting more. We couldn't help but find a way to get them exactly what they were looking for and to pioneer this half share opportunity; after all, the whole Porches neighborhood concept was unique when we opened in Steamboat Springs twelve years ago."
Half shares are deeded and owners can move in for up to two months at a time, for up to six months in a year. The Porches' private management company will keep a calendar that will allow owners to plan ahead for many years. These homes come fully furnished and there will be lots of storage available for the two respective owners' personal belongings. Currently, two types of townhomes selling half shares are the five bedroom, five and a half bath, five thousand square feet Ponderosa and the four bedroom, four and a half bath, thirty-two hundred square feet Hawthorn. Real estate sales in this select neighborhood have been brisk this winter with five homes being sold.
"Ownership includes our full-service concierge, our shuttles to the gondola, to shopping, dining and downtown Steamboat, and the use of our pool, spa and lounge area at The Barn," Porches general manager Emilie Crider pointed out. "We believe we are offering 'hassle-free living' in an irresistible mountain setting." The exclusive homes available for half share ownership are limited, but the developers of The Porches have responded to the demand for the new ownership niche they have created in this area.
About The Porches of Steamboat Springs
The Porches is a neighborhood of luxury townhomes located in the base area of the ski mountain in Steamboat Springs, Colorado. These high end, thoughtfully crafted homes range in size from 3,000+ square feet to 5,000+ square feet and they feature custom beams, professional kitchens, the finest cabinetry, custom ranch stone fireplaces, and of course, comfortable and inviting porches. Ownership in these gracious homes are available for whole, half, and one eighth interest.
Media contact:
Sabra Wiethoff
Structural Associates Company
4185 County Road 154
Glenwood Springs, CO 81601
970.945.0147
sabra(at)structuralassoc(dot)com
http://www.structuralassoc.com