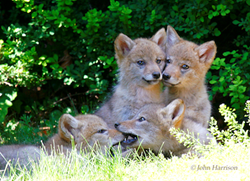 We need a new paradigm for way we coexist with native carnivores
Oakland, CA (PRWEB) March 15, 2016
On Friday, March 18, 2016, from 6:30pm – 9:30pm, Oakland Zoo's 'Conservation Speaker Series' welcomes the public to attend a presentation by Project Coyote, an organization dedicated to promoting the coexistence between people and wildlife, and compassionate conservation through education, science, and advocacy.
In North America, wolves, coyotes, foxes and other species are under threat from government programs; more than 100,000 predators are killed in the U.S. each year by the U.S Department of Agriculture's "Wildlife Services" agency. Species targeted by these publicly funded government programs include coyotes, wolves, bears, mountain lions, foxes and bobcats. The coyote is by far the most persecuted carnivore in North America. At least half a million coyotes are killed every year in the U.S by federal, state and local governments as well as private individuals.
The evening will focus on why native carnivores matter, how they keep the ecosystem healthy and how America's war against predators is costly, brutal, and ineffective. Learn about national programs aimed at stopping the mistreatment of carnivores through education, science and advocacy.
"We need a new paradigm for way we coexist with native carnivores - one that recognizes their important ecological role and their intrinsic worth as beings who share finite space and time on this planet Earth," said Camilla Fox, Project Coyote Founder and Executive Director and the evening's keynote speaker.
"The time is now to learn to peacefully share our native habitat with coyotes, mountain lions, bears and other majestic animals. Oakland Zoo is thrilled to be part of this evolution in forward thinking, and to share the wisdom and progressive solutions of Camilla Fox and Project Coyote," said Amy Gotliffe, Conservation Director at Oakland Zoo.
The Conservation Speaker Series will take place in Oakland Zoo's Zimmer Auditorium, located at the lower entrance of the Zoo. Attendees can enjoy light refreshments. Parking is free and the admission price for the evening's speaker presentations is $12.00 - $20.00 per person (sliding scale). All proceeds from this event will be donated to Project Coyote.
For additional information about Oakland Zoo's Conservation Speaker Series, please contact Amy Gotliffe, Conservation Director, at amy(at)oaklandzoo(dot)org
ABOUT PROJECT COYOTE:
Project Coyote, a North American coalition of wildlife scientists, educators, predator- friendly ranchers and community leaders, promotes compassionate conservation and coexistence between people and wildlife. As a national non-profit organization based in Northern California, Project Coyote works to change negative attitudes toward coyotes, wolves and other native carnivores by replacing ignorance and fear with understanding, respect and appreciation. All of our work - through education, science, and advocacy - strives to create fundamental and systemic changes in the ways wild carnivores are viewed and treated in North America.
http://www.projectcoyote.org
ABOUT CAMILLA FOX:
FOUNDER & EXECUTIVE DIRECTOR, PROJECT COYOTE
For over 15 years, Camilla Fox has worked to protect wildlife and wildlands in the U.S. and internationally. She has served in leadership positions with the Animal Protection Institute, Fur-Bearer Defenders, and Rainforest Action Network and has spearheaded campaigns aimed at protecting native carnivores and fostering humane and ecologically sound solutions to human-wildlife conflicts. As the Executive Director of Project Coyote and a wildlife consultant, Camilla assists communities, agencies, wildlife managers, and non-governmental organizations in creating innovative solutions to help people and wildlife coexist. A frequent speaker on these issues, Camilla has authored more than 60 publications and is co-author of Coyotes in Our Midst: Coexisting with an Adaptable and Resilient Carnivore and co-editor and lead author of the book, Cull of the Wild: A Contemporary Analysis of Trapping in the United States. Her work on behalf of wildlife has been featured in several national and international media outlets including the German documentary, Coyote: The Hunted Hunter, two North American documentaries: American Coyote – Still Wild at Heart, and On Nature's Terms, as well as The New York Times, the BBC, NPR, Orion, USA Today magazine, and Bay Nature magazine.
Camilla holds a Master's degree in Environmental Studies with a focus in Wildlife Conservation, Policy, and Ecology from Prescott College and a Bachelor's degree from Boston University where she graduated magna cum laude in 1991. She has served as an appointed member on the U.S. Secretary of Agriculture's National Wildlife Services Advisory Committee and currently serves on several national and local advisory boards. In 2006, Camilla received the Humanitarian of the Year Award from the Marin Humane Society and the Christine Stevens Wildlife Award from the Animal Welfare Institute. She was just awarded the Grassroots Activist of the Year award by the Fund for Wild Nature.
ABOUT OAKLAND ZOO:
The Bay Area's award-winning Oakland Zoo is home to more than 660 native and exotic animals. The Zoo offers many educational programs and kid's activities perfect for science field trips, family day trips and exciting birthday parties. Oakland Zoo is dedicated to the humane treatment of animals and wildlife conservation onsite and worldwide; with 25¢ from each ticket donated to support conservation partners and programs around the world. The California Trail, a transformational project that more than doubles our size, opens in 2018, and will further our commitment to animal care, education, and conservation with a focus on this state's remarkable native wildlife. Nestled in the Oakland Hills, in 500-acre Knowland Park, the Zoo is located at 9777 Golf Links Road, off Highway 580. The East Bay Zoological Society (Oakland Zoo) is a nonprofit 501(c)3 organization supported in part by members, contributions, the City of Oakland and the East Bay Regional Parks. For more information, go to: http://www.oaklandzoo.org