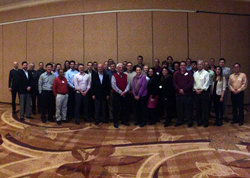 Committee meetings like this provide an excellent platform that brings together the key packaging staff of the world's leading pharmaceutical companies
(PRWEB) March 17, 2016
Whitehouse Laboratories, a world leader in contract testing services, recently hosted the Drug and Pharmaceutical Packaging Committee of the Institute of Packaging Professionals (IoPP) at the company's headquarters in Whitehouse, New Jersey.
"It was an honor to host the Drug and Pharmaceutical Packaging Committee's Spring 2016 Meeting," said Mark Stier, Whitehouse Labs General Manager. "Committee meetings like this provide an excellent platform that brings together the key packaging staff of the world's leading pharmaceutical companies, allowing them to share their perspectives on trends and challenges in the industry."
The Committee is organized to study overall packaging operations, technical advances, and related issues of the drug and pharmaceutical industry. Membership is composed of packaging experts from companies in the pharmaceutical industry which are involved in the Research and Development of new chemical/biological entities and the manufacturing and marketing of human prescription drugs.
Committee Member, Wayne Leblong, of Pfizer, Inc remarked, "We were impressed with Whitehouse Labs' multiple expert capabilities and knowledge of the latest developments affecting the Pharmaceutical Industry. Their staff was well informed and eager to share their expertise of testing requirements for Pharmaceutical Packaging."
In addition to the Committee's general proceedings, Whitehouse Labs representatives Li Xu, Ph. D - Senior Research Scientist and Brandon Zurawlow - Associate Director of Container Closure Integrity and Container Testing presented on the upcoming revisions to USP General Chapter 661. "While challenging to interpret, these changes to the USP represent a modernization of the chapter designed to ensure plastic packaging components used by manufacturers will properly protect the drug product, while being compatible with the drug formulation and ultimately safe for the end user", remarked Zurawlow. "Whitehouse Labs is ready to assist clients with all testing needs associated with USP 661.1 and 661.2", remarked Stier.
The meeting concluded with a tour of Whitehouse Labs state of the art facilities. "We are happy to have hosted this extremely important and renowned Committee at our headquarters," said Eric Creveling, Director of the Packaging and Technical Services. "We are confident that the visit helped the Committee gain a better technical understanding the upcoming changes to USP 661 and of new container closure integrity testing technologies as related to USP 1207 and their impact on drug packaging development."
About IoPP
The Institute of Packaging Professionals (IoPP) is the leading individual membership organization serving the educational needs of the packaging community. It is committed to providing continuing educational programs of interest and value to all packaging professionals. These programs cover all packaging related areas of business and technology, as well as fundamental principles. The organization, its activities and operations support the development of the best possible packaging programs and events. For more information please visit http://www.iopp.org.
About Whitehouse Laboratories
The leader in testing, Whitehouse Labs, a division of Albany Molecular Research Inc., offers comprehensive analytical services providing support for manufacturing from development to market. From analytical chemistry and material qualification to packaging optimization, Whitehouse Laboratories is the testing partner for the world's leading Pharmaceutical, Biotechnology, Medical Device, Life Sciences and Consumer Products organizations.
Visit our website at http://www.whitehouselabs.com, find us on Facebook or follow us on Twitter