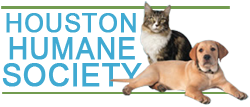 Houston, TX (PRWEB) March 14, 2016
The Houston Humane Society (HHS) is warning pet owners about the dangers of the new canine flu and is now stocking the vaccine at their low-cost Animal Wellness Clinic.
What is the new flu? An influenza A strain, the "new flu" is classified as H3N2. The virus is of avian origin and has spread across 25 states, including Texas. Most unvaccinated dogs are susceptible to infection, and unless a dog has already had the illness and recovered, almost every dog exposed to the virus will become infected. The best protection against canine influenza is vaccination.
*Note: neither strain of canine influenza is infectious to humans, but the dog flu is not seasonal like the human flu – it's a year-round problem.
Canine flu is spread much like a common cold or flu virus in humans. Canine influenza viruses are most commonly spread through direct dog contact (sniffing, licking, nuzzling); through the air (coughing and sneezing); contaminated surfaces (sharing water bowls or toys); or through contaminated humans (with viruses on their hands or clothing).
HHS highly advises dog owners to take action now before their dog becomes infected, too. Some questions to think about: Does the dog visit doggie day care? Board at a boarding facility or pet hotel? Attend training classes? Play at dog parks? Participate in dog-friendly events? Attend dog shows or sporting events? Visit a groomer or the local pet store? Often greet other dogs during walks? If the answer is "yes" to one or more of these questions, that dog is at a higher risk for canine influenza!
Visit HoustonHumane.org for more information about the new flu virus and vaccine, H3N2, and to find out more information about the original canine flu strain, H3N8.
About the Company:
The Houston Humane Society is dedicated to, and working towards, ending cruelty, abuse and the overpopulation of animals while providing the highest quality of life to those in their care. The HHS does not receive any government funding or operating funds from national animal welfare organizations, and relies solely on donations, special events and program services. Visit the Houston Humane Society website for more information.