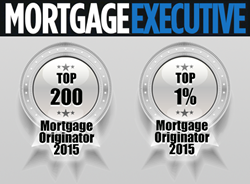 "We are tremendously proud of each of these individuals and celebrate the dedication and hard work they have put into serving their clients." -William Tessar, President of Retail Lending for Skyline Home Loans
Calabasas, CA (PRWEB) March 15, 2016
Skyline Home Loans is proud to announce that three of its loan officers were named among the elite Top 200 Mortgage Originators in the U.S., and 17 additional loan officers were named as the Top 1% of Mortgage Originators.
The lists, published by Mortgage Executive Magazine, are released annually to rank the top producing originators in the industry to recognize them for their success.
As one of the nation's leading independent mortgage companies, 10% of Skyline's nearly 200 Loan Originators are recognized among this year's national rankings. "In an era of turbulence in the mortgage industry, the average tenure of these top producing loan officers is nearly a decade with the Company," said William Tessar, President of Retail Lending for Skyline Home Loans. "We are tremendously proud of each of these individuals and celebrate the dedication and hard work they have put into serving their clients."
In their commitment to excellent service, Skyline's loan officers continue to surpass expectations of their clients and the industry alike. They cite unsurpassed operational excellence, a culture of teamwork and experience as reasons for their success.
"It is an honor to be recognized among the top 1% of my peers for nearly two decades now. Over the years our team's focus on ensuring the best home loan process and experience for our clients has never wavered, and never will," states top 200 Originator Mark Klein.
"I am grateful to my clients who have placed their trust and confidence in me to fulfill their home loans. For me, I believe my 31 years of experience, knowledge and passion for excellence has enabled me to consistently remain a top producer," says top 1% Originator Joe Tishkoff.
Skyline's 2015 Top 200 Mortgage Originators

Edwin Davidian
Elvis Keshishyan
Mark Klein
Skyline's 2015 Top 1% Originators
Steve Aledort
Daniel Arias
Eduardo Avakian
Alan Ben-Porat
Shea Case
Gino Fronti
Brian McKim
Fredrik Megerdichian
Nina Nazar
Michael Razak
Dennis Reese
Joe Tishkoff
Christopher Tosti
Tracy Trudeau
Chris Wagner
Taylor Weiner
Jobe Whelan
###
About Skyline Home Loans:
Founded in 1985, Skyline Financial Corp. is a full-service, direct lender based in Calabasas, CA with over 30 branches across the nation. We close over $3 billion in loans annually and rank as one of the top 50 residential mortgage lenders in America. To learn more, visit http://www.skylinehomeloans.com.
Media Contact: Elizabeth Hillestad, Senior Vice President, Marketing, Skyline Home Loans ehillestad(at)skylinehomeloans(dot)com
©Skyline Financial Corp. dba Skyline Home Loans, Nationwide Mortgage Licensing System (NMLS) Company ID# 12072. Arizona Mortgage Banker License #927740, Licensed by the Department of Business Oversight under the California Residential Mortgage Lending Act File No: 4130296, Georgia Residential Mortgage Licensee, Illinois Residential Mortgage Licensee, Licensed by the New Hampshire Banking Department License #19536-MB, Ohio Broker/Banker Registration #MBMB-850231-000, Oregon Mortgage Lender License ML-2797, Washington Consumer Loan Company License CL-12072. Refer to http://www.nmlsconsumer.org and input NMLS#12072 to see where Skyline Financial Corp. is a licensed lender.