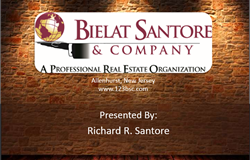 Allenhurst, New Jersey (PRWEB) March 14, 2016
Bielat Santore & Company invites restaurant industry professionals and aspiring restaurant owners to attend their next live webinar based scheduled to take place on Tuesday, April 5, 2016 at 10:30 am via online or dial-in capability, the webinar will educate viewers on Tip #2 in the series: Developing a Business Plan. These webinars, patterned after the company's popular "Restaurant Tip of the Month" video and blog series, provide restaurateurs with assistance, information and guidance from leading commercial real estate, banking, appraisal, insurance and other industry professionals on everything from finding and financing a restaurant to operating, staffing, maintaining and promoting a successful business.
Interested participants are encouraged to reserve their entry as soon as possible by emailing Courtney(at)123bsc(dot)com . An email including a link with further instructions will be delivered. A recording of the webinar will be made available to attendees and those who already own a restaurant will be offered an opportunity to be featured in the company's Annual Restaurant Guide.
Bielat Santore & Company's "Restaurant Tips of the Month" can be found on their website http://www.123bsc.com , Hub page, as well as their sponsored Jersey Beats & Eats blog page and YouTube channel.
About Bielat Santore & Company
Bielat Santore & Company is an established commercial real estate firm. The company's expertise lies chiefly within the restaurant and hospitality industry, specializing in the sale of restaurants and other food and beverage real estate businesses. Since 1978, the principals of Bielat Santore & Company, Barry Bielat and Richard Santore, have sold more restaurants and similar type properties in New Jersey than any other real estate company. Furthermore, the firm has secured in excess of $500,000,000 in financing to facilitate these transactions. Visit the company's website, http://www.123bsc.com for the latest in new listings, property searches, available land, market data, financing trends, RSS feeds, press releases and more.