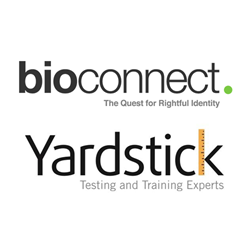 "The way we (and every other person in our society) communicate identity today is through usernames, passwords and ID cards. It's really fragmented, inconvenient and also very insecure." - YardStick Co-Founder & CEO Chris LaBossiere
Toronto & Vancouver, Canada (PRWEB) March 16, 2016
BioConnect and Yardstick are pleased to announce an innovative partnership that will transform the professional testing and assessment industry. Yardstick is the largest Canadian institution to bring together world-class expertise in computerized exam administration, psychometrics and eLearning with forward-thinking technology and BioConnect is a transformative technology company specializing in identity management and biometric technologies that deliver greater security, assurance and convenience in an enterprise setting.
BioConnect will enable Yardstick to introduce enrolment and verification capabilities into their high-stakes and low-stakes testing environments, and regulated online training products, leveraging credentials that are completely unique to each participant, such as their face, eyes, heartbeat or fingerprint. BioConnect refers to these unique characteristics as our Rightful Identity. The BioConnect and Yardstick partnership will give visibility into the identity of examinees and online learning participants and enable cross-channel and cross-platform management.
"The way we (and every other person in our society) communicate identity today is through usernames, passwords and ID cards. It's really fragmented, inconvenient and also very insecure. With the announcement of our partnership with BioConnect we are seeking to tap into in a secure identity platform that will provide assurance of identity for our clients, partners and participants across all the channels that are critically important to Yardstick," said Yardstick Co-Founder and CEO Chris LaBossiere.
For a high-stakes testing environment, assurance of identity is critically important. The result of a high stakes passing grade could result in the achievement of a degree or diploma, or a license to practice a profession. The flaw in the current identification system could mean giving credit where it isn't warranted as a username, password and ID card can be shared, borrowed, forgotten, or even stolen. Online training for competencies that can hold personal or public safety in the balance should also ensure the Rightful Idenity of the learner.
The gravity of consequence for a low-stakes test such as credential management, code of conduct, or training certifications is generally much less; however, Rightful Identity would still provide tremendous benefit by enabling consistent identity across platforms. Unification of identity from an enterprise perspective has tremendous value across both low and high stakes testing and training.
For BioConnect, this partnership represents the entrance into a new industry and a giant step forward on the Quest for Rightful identity with the goal of enabling a single identity for all, across every market.
"On our Quest for Rightful Identity we are specifically seeking out industry pioneers who dominate a core competency within an industry" says Bianca Lopes, Director of Strategic Partnerships. "Yardstick is leading the assessment and online training industry in regulated insustries and we are very excited for the possibilities that we can uncover together."
Stop by Yardstick's Booth #71 at the upcoming ATP Innovations in Testing Conference in Orlando, Florida, March 20-23, 2016 to learn more about how BioConnect and Yardstick are Advancing Examinations through Biometrics.