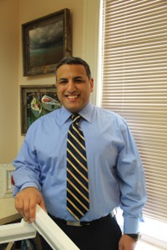 Congers, NY (PRWEB) March 14, 2016
Dr. Andrew Basta is now certified to offer his patients a better way to achieve oral health with the BIOLASE WaterLase iPlus 2.0™ laser. People looking for a dentist in Congers, NY to treat gum disease, fill cavities, whiten teeth or remove lesions no longer have to undergo painful and invasive dental procedures. This method of laser dentistry involves a highly calibrated beam of light and a stream of water that remove damaged tissue, residues and bacteria, eliminating the need for sharp dental tools such as needles, scalpels and drills.
While many people visit the dentist in Congers, NY to acquire or maintain a healthy, beautiful smile, traditional treatments for some oral health problems may cause anxiety. As a result, a person may put off making an appointment, even if it causes the condition to worsen. For example, when bacteria attack the tissues below the gum line, the infection and inflammation cause decay which spreads the longer it is left unchecked. Not only can gum disease lead to painful, bleeding gums and tooth loss, oral bacteria can enter the bloodstream, which research has discovered may be connected to other health issues such as colon cancer, heart disease and diabetes.
Removing damaged tissue with dental tools generally requires the gums to be cut to scrape the tartar off the roots of teeth and remove decayed tooth matter. Laser dentistry reduces or eliminates the damage and pain of the procedure because Dr. Basta can insert the small, disposable tip between the gums and teeth to clean the area, so there is no need for incisions and stitches. The BIOLASE WaterLase iPlus 2.0™ laser also cuts with precision, so the dentist can treat cavities without harming healthy bone tissue, preserving more of the natural tooth. Lesions are more easily removed with the laser, and recovery time for this treatment is reduced drastically, as well.
In addition to these techniques, this Congers, NY dentist, Dr. Basta, also uses BIOLASE WaterLase iPlus 2.0™ laser to perform cosmetic procedures such as tooth whitening more effectively. More information about laser dentistry is available on his website at http://www.congersdentalarts.com.
About the Doctor:
Dr. Andrew Basta is a dentist offering personalized dental care for patients at his dental practice, Congers Dental Arts, in Congers, NY. Dr. Basta and his team provide a wide range of services and are committed to high quality, professional care through the use of laser dentistry and other advanced techniques. To learn more about the services offered at Congers Dental Arts please visit his website at http://www.congersdentalarts.com or call (845) 268-3828 to schedule an appointment.