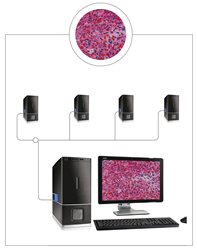 "VIS 6.0 with Engine™ is the fastest image analysis software on the market, and with this launch we once again increase our lead over our competitors", explains CTO Johan Doré Hansen.
Hørsholm, Denmark (PRWEB) March 15, 2016
The desire for faster and more cost effective solutions for interpretation of targeted treatment need no longer be a dream. Visiopharms new software not only ensures that the speed of processing is increased well beyond the current speed limits of quantitative digital pathology, the time it takes to do labor intensive quantitative tasks can be significantly reduced, the quality of data greatly improved, and some of the work reassigned to technologists or other laboratory staff members.
6 x faster with options to endlessly increase processing speed
With VIS 6.0 Visiopharm continues to deliver reproducible and accurate quantitative data that helps to improve productivity in the laboratories, but now at a much higher speed. In complex heterogeneous tumors the speed has proven to be 6 times faster than the previous software version. Further processing power can be added in a cost-efficient network. With endless computational power in the background the software delivers scalable processing across a network.
Fast, easy targeted
The new technology increases the processing speed for image analysis on the scanned images considerably, while simplifying the work with HotSpot analysis, the work of identifying pre-invasive vs. invasive modes gets more efficient. CMO Helle Fisker explains: "Digital Pathology is now so strong that it beyond doubt will be a vital part of the workflow in pathology laboratories as it is happening now in several countries".
Speed is essential
The speed of sample processing is now so good that it allows for clinical routine pathology delegate work and still meets the increasing workload expectations. "VIS 6.0 with Engine™ is the fastest image analysis software on the market and with this launch we once again increase our lead over our competitors", explains CTO Johan Doré Hansen.
From time consuming to cost efficient
Today, there are tests where cells are counted manually under a microscope; a time-consuming, challenging and thus costly task. With automated cell counting and powerful Image Analysis algorithms like Her2 analysis for targeted treatment, Hot Spot detection and separation of stroma in complex tumors, labor intensive work processes can be reduced and some of the work potentially delegated to technologists or other laboratory functions.
About Visiopharm
Visiopharm image analysis software has become the preferred Quantitative Digital Pathology solution for leading biopharmaceutical companies, contract research organizations (CRO), research institutions, and for hospital diagnostic pathology labs around the world. Recently, Visiopharm has expanded to include Oncotopix™ for Diagnostics a robust solution for cancer diagnostics with CE-IVD algorithms for the breast panel, integrated LIS driven workflow, and Virtual Double Staining. Our software is featured in over 800 scientific publications, and is compatible with leading slide scanner manufacturers, data management software, and a wide variety of microscopes and cameras.
Visiopharm, a privately owned company, was founded in 2001 by the Managing Director, and Chief Executive Officer, Michael Grunkin and the Chief Technical officer, Johan Doré Hansen, who both have a strong scientific and practical background in image analysis.
Our company has grown into an international business with over 500 licenses placed, with countless users, in more than 30 countries. Our growing network of authorized distributors and integration partners support the growth of Visiopharm solutions on several continents including North America, Europe and Asia. Our headquarters is located in the Medicon Valley of Denmark, with a branch office in the Netherlands, and a North America office in Broomfield, Colorado.