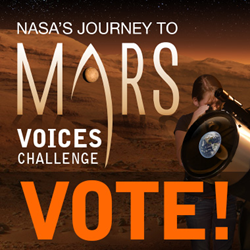 Bravo to the forward-thinking students from across the globe who studied the problems, conducted research and designed so many innovative solutions," noted Jodell Seagrave, President & COO Rocket21
Fairfield, CT. (PRWEB) March 15, 2016
Rocket21 today announced the public voting phase of Journey to Mars Voices Challenge, a collaboration with National Institute of Aerospace (NIA) and National Aeronautics and Space Administration (NASA). Voters will select Grand Prize Winners for the project, a series of innovative activities and competitions designed to engage middle and high school youth in learning about and helping to solve challenges that must be overcome to make the Journey to Mars a reality.
Beginning September 2015, middle and high school students were invited to learn about NASA's plans for the Journey to Mars and the obstacles that must be overcome to make this journey, conduct research, design innovation and share their solutions to the challenges that will be faced in this monumental journey.
Participating students completed five substantive milestone challenges, including the submission of an original script and a 90-second podcast in response to the Challenge topics. Many students also produced supplementary videos and diagrams to enhance their submissions.
Reviewers from NASA and NIA have selected National Finalists from two groups of students; Tweens Under 13 and Teens. Beginning Monday, March 14th through midnight on Sunday, March 20th, Gen Z Youth and their friends and families, teachers and other interested parties are invited to cast their VOTES for the National Grand Prize Winners.
Two U.S. students will be selected as National Grand Prize Winners, representing Gen Z Youth at the 2016 USA Science & Engineering Festival in Washington, D.C. The remaining National Finalists will be invited to share their final podcasts on Innovation Now, a broadcast and online radio program (http://www.innovationnow.us), reaching approximately 10.5 million listeners daily.
In addition, more than one hundred prizes including NASA licensed merchandise and cash have been awarded throughout the project to students selected in ten MARS Monday Drawings.
"The opportunity to bring this set of rich opportunities for students to engage in real-world problem solving with world-class experts is a strategic bullseye against our mission to help students THINK BIG. DO MORE," added Jodell Seagrave, President & COO Rocket21. "Bravo to the forward-thinking students from across the globe who studied the problems, conducted research and designed so many innovative solutions."
Voting participants may vote for ONE finalist per day from each of the two age groups, beginning Monday, March 14th and ending at midnight on Sunday, March 20th. Grand Prize Winners will be announced on Monday, March 21st at rocket21.com.
To review all of the National Finalists submissions before casting your vote, visit http://rocket21.com/journeytomarschallenge-finalists.
Follow challenge news at #JOURNEYTOMARS AND #NASATECH.
###
About Rocket21
Rocket21 is a social engagement platform built on a single, powerful idea: Connect youth with world class organizations and professionals at the top of their game. Rocket21 is the only social networking platform designed to safely connect kids and teens with professionals and experts representing unprecedented access to world-class experts and organizations while protecting them with a combination of state-of-the-art, real-time filtering and human moderation, extensive safety and security precautions, and a specialized infrastructure designed to keep kids safe. For media inquiries, please contact media relations at media(at)rocket21(dot)com. Like Rocket21 on Facebook and follow @Rocket21 on Twitter. For more information, visit http://www.rocket21.com