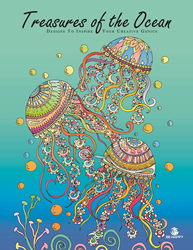 Columbus, Ohio (PRWEB) March 17, 2016
There is a new adult coloring book by the Be Happy Coloring Books line of products. The brand is well known for their intricate designs filled with mandalas and other dreamlike swirls and shapes that invite focus while maintaining creativity for the person coloring. Adult coloring books offer a unique opportunity to explore a childhood hobby while also accessing the type of stress relief normally only found in mediation. A 2005 behavioral study even found that human anxiety was reduced drastically when coloring mandalas. The Be Happy Coloring Books series features books that educate, inspire, and relax the brain. The latest physical hardcopy version of the book, Treasures of the Ocean: Adult Coloring Book, Designs to Inspire Your Creative Genius has now been released onto Amazon. The digital downloadable version is also on their Etsy Store called Joenay Inspirations.
"I wanted to bring the peace of the ocean, that lovely tranquility to the reader," says Garrett. "There's something so peaceful and beautiful in its silence, and I wanted to be able to capture the feels and movements of the ocean and all its grace and beauty. I really hope that people will enjoy this and get something ethereal from it."
The book is the latest in a collection of books that explore Eastern mandalas, world designs, amazing and exotic animals, and loving couples. Treasures of the Ocean includes those beautiful sea creatures that lie beneath the surface of our oceans.
For more information on the book, visit:
On Amazon at: amzn.to/1RYdSoJ
On Etsy at: http://bit.ly/TreasuresOfTheOceanCB
About Be Happy Coloring Books
Website: Joenay.com
At Be Happy Coloring Books we are all about bringing you some of the best artwork from around the world. Our goal is to inspire your creative genius within, and we do this through our many variations of coloring books for adults. We offer stress relieving patterns, relaxing mandalas and mosaics, geometric designs, stained glass, beautiful faces, fancy flowers, inspiring affirmations, amazing animals and so much more. So come and explore the many wonders of coloring books for grownups.