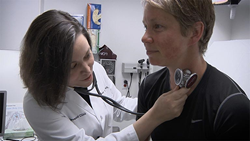 "There are so many important messages in this film"- Larry Creswell, MD, Cardiac Surgeon
Seattle, WA (PRWEB) March 16, 2016
Ironheart Productions announced today the debut of the new trailer for their compelling documentary, HEART: Flatline to Finish Line. This coincides with the announcement of the documentary's official selection to the All Sports Los Angeles Film Festival April 14-17, 2016.
One in three people will suffer from heart disease in their lifetime, but only one in a million will thrive from it.  HEART: Flatline to Finish Line is the raw and emotional journey of six individuals from hospital beds to the finish line of one of the world's most grueling and popular endurance events, the IRONMAN® triathlon.  
Director David Watkins flatlined on the operating table- his heart stopped for 5 minutes.  For an otherwise healthy man in his thirties, a congenital heart defect nearly proved fatal.  After being revived and surviving a subsequent stroke, he became determined to do something with his second lease on life.  
Heart surgery is an all too common event and before long David was meeting people from around the world with similar stories - all had something to prove.  This is the story of 6 survivors daring to take on an improbable feat and prove to the world they still have the heart to overcome any obstacle that gets in their way.  
Shot across the country from Seattle to Las Vegas, Chicago, Honolulu, Carmel and Tempe, this feature-length documentary will take you on a visually stunning and emotionally moving journey of despair and triumph, of sacrifice and glory. Featuring original music by indie darling Cloud Cult, and interviews with some of the biggest names in endurance sport and cardiology, it will inspire you to examine your own life and encourage you to fill it full of HEART.  
View the official trailer for the documentary at their website http://www.flatlinetofinishline.com
The documentary's festival run starts in April at the All Sports Los Angeles Film Festival at Regal 14 Stadium/L.A.Live. HEART: Flatline to Finish Line is expected to have a strong festival showing leading up to a Fall 2016 release.  Pre-orders are available now and advanced screenings are being scheduled around the country
ABOUT IRONHEART PRODUCTIONS:
Ironheart Productions is an initiative of the Ironheart Foundation, a 501(c)(3) non-profit organization which works to transform, empower and positively impact the lives of those affected by heart disease. For more information, visit http://www.ironheartfoundation.org.
CONTACT:
Dave Watkins
Director/Producer
dave(at)flatlinetofinishline.com
425-829-0783
Donald Bowman
Producer
donald(at)flatlinetofinishline.com
415-203-1553