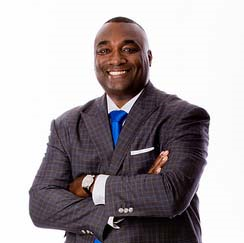 Hope is vital for human existence. Without it, life becomes dull and futile, said Garrett.
Columbus, Ohio (PRWEB) March 18, 2016
In 2005, Ohio State University conducted a study which found out that hope is vital for good mental health. The study tested a sample of 32 people who were dissatisfied with where they were in life. Half of the participants took part in sessions that taught hope related skills such as how to set goals and achieve them and how to motivate themselves. The results showed that this group had reduced symptoms of depression compared to the control group.
H.O.P.E is Everything features 8 CDS with inspirational stories, tips and strategies, along with interviews to empower self and others to achieve greatness. This goldmine collection will equip individuals on how to Discover the Champion Within Themselves, Beat the Odds, How to Live their Best Life Now, the Essence of Servant Leadership and more.
Mark is a living testament of the power of hope. Having suffered many hardships throughout his childhood, he admits that hope for a better future was the main thing that got him to where he is today. He said: "Hope is vital for human existence. Without it, life becomes dull and futile. There are people who feel stuck in a rut and cannot seem to go forward. Even if you don't have a lot of money, once you have hope, you truly have everything."
Hope is Everything is a must-have resource for individuals who want to reignite their dreams, those who are tired of relinquishing their dreams due to disappointment and those who just want a dose of inspiration for life's journey. The series is available and can be purchased by visiting: http://fostercareexpert.com/products.html.
About Mark Anthony Garrett
website: FosterCareExpert.com
Motivational speaker, Mark Anthony Garrett is a leading columnist for Fostering Family Today Magazine and the author of Teachers Are Heroes - 7 Success Principles for Transformational Teaching. Mark's story and Teachers Are Heroes message has been featured on ABC, NBC, CBS & FOX networks and affiliates. He has also been featured in Forbes magazine.