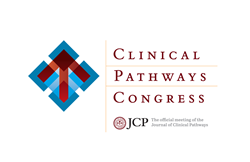 As interest in value-based healthcare continues to drive use of pathways, we need to better understand how they impact patient experience, outcomes, and expenditures.
Malvern, PA (PRWEB) March 15, 2016
Journal of Clinical Pathways, a leading peer-reviewed publication from HMP Communications Holdings, LLC, announced today the steering committee of professionals who will guide the program for their inaugural meeting focused on the future of evidence-based cancer care.
From September 16-18, 2016 in Boston, MA, the Clinical Pathways Congress will bring together leaders from throughout the oncology care spectrum – payers, providers and clinical pathways developers – to address critical questions around care pathways and develop new strategies to ensure pathways are designed to align with provider, payer and patient needs.
The Steering Committee members represent a diverse cross-section of healthcare leaders, including: Bruce Feinberg, DO, Vice President Clinical Affairs, and Chief Medical Officer Cardinal Health Specialty Solutions; Dwight E. Heron, MD, MBA, FACRO, FACR, Professor and Vice Chairman of Clinical Affairs, Department of Radiation Oncology, University of Pittsburgh School of Medicine/University of Pittsburgh Cancer Institute/UPMC Cancer Center, Chairman, Department of Radiation, Oncology, UPMC Shadyside, and Medical Director, Via Oncology; Michael Kolodziej, MD, National Medical Director for Oncology Strategy, Aetna; Winston Wong, PharmD, President, W-Squared Group; and Robin T. Zon, MD, FACP, FASCO, Chair, ASCO Pathways Task Force, and Vice President, Finance & Quality Chair, Michiana Hematology Oncology, PC.
With $137 billion spent on treatment in the U.S. annually, cancer care delivery is being increasingly scrutinized in an attempt to find new strategies that reduce costs and variability, enhance value, and provide optimal care. Decision-support tools such as clinical pathways have been introduced to drive improvements and in some cases are linked to financial incentives. Their use, however, continues to raise questions about patient access, care quality, and transparency.
"As interest in value-based healthcare continues to drive use of pathways, we need to better understand how they impact patient experience, outcomes, and expenditures," said Robin T. Zon, steering committee member. "This meeting could not be held at a more critical point in the evolution of cancer care. The topics we have chosen to feature in the program cut to the heart of the pressing questions facing payers, providers and pathway developers – issues around decision making, transparency, financial incentives, patient involvement and impact, and principles or standards governing the design and deployment of pathways. The Congress will serve as a forum for stakeholders to come together and find collective solutions."
Sessions as part of the conference program include:

Precision Medicine: An Essential Component of Oncology Clinical Pathways
Review of and Exchange on the ASCO Policy Statement on Clinical Pathways in Oncology
Clinical Pathways: A Point-Counterpoint from the Provider and Payer Perspective
Can Physician Behavior Change? The Case for Provider-Driven Pathways
What Constitutes Fair Pricing of Oncology Medications?
Patient Impact on the Implementation & Effectiveness of Clinical Pathways
For more information about the conference and to register, please visit clinicalpathwayscongress.com.
About Journal of Clinical Pathways
Launched in 2015, the mission of Journal of Clinical Pathways is to provide a platform for original research, insights, and perspectives in the pursuit of attaining quantifiable value in healthcare. Published monthly, the journal features peer-reviewed educational and informational articles on topics including: comparative-effectiveness research; big data analytics; methods in clinical pathway development; optimizing clinical pathway implementation, compliance, and adherence; evaluating health, economic, and patient-centered outcomes; and alternative payment and value-based care models. To learn more, visit journalofclinicalpathways.com.
About HMP Communications Holdings, LLC
HMP Communications Holdings, LLC (HMP), a collaborative formed by HMP Communications, LLC and the North American Center for Continuing Medical Education, LLC (NACCME), is a multi-channel leader in healthcare content and education, with a mission to improve patient care. The company produces clinically relevant, evidence-based journals, events and accredited, continuing education for the healthcare community, across a range of therapeutic areas. Its brands include Consultant, the monthly, award-winning journal relied upon by primary care practitioners and the Symposium on Advanced Wound Care (SAWC), the largest wound care meeting in the world. For more information, visit hmpholdings.com.