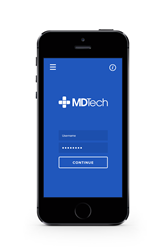 "The implementation of MD Coder Dialysis Capture at SCSP was a resounding success". Keith Bellovich, DO
Houston, Texas (PRWEB) March 15, 2016
Medical Design Technologies® today announced that St. Clair Nephrology recently completed implementation of the company's MD Coder 10 Charge Capture solution across their entire enterprise with 100% physician adoption.
SCSP is a group of physicians that cover Kidney Disease, Hypertension and Transplantation across two states, more than a dozen hospitals, and over 50 dialysis centers in Michigan and Idaho. More than 55 end-users are live on the system and have utilized MD Coder Dialysis to capture over 30,000 inpatient charges and over 150,000 Dialysis visits since going live.
SCSP originally undertook a charge capture vendor evaluation to assess mobile charge capture capable of streamlining the group's daily rounding lists and enhance their coding and billing process. SCSP was utilizing a different vendor's mobile Dialysis charge capture solution but was unhappy with the product. "The vendor we were using, did not update the application to reflect the current demands of our physicians. The application was not very flexible, it took months to get simple changes completed and what we first thought was good service and support, soon faded when our contract was signed. The tipping point was any lack of planning for the transition to ICD-10" said Kelly Wolfe, Billing and Collections Manager at St. Clair Specialty Physicians.
SCSP did a thorough evaluation of the market place for Dialysis Charge Capture vendors and choose MDTECH's MD Coder in July of 2015 with a go-live date of October 2015. Going live includes getting ALL the physicians live, multiple interfaces into Hospital Systems, Dialysis Centers and their Allscripts PM System.
The organization decided on Medical Design Technologies (MDTech) dialysis capture solution, MD Coder 10. Based on recommendations from other practices in the community and speaking to MD Coder references SCSP choose MD Coder Dialysis.
"One of the reasons MD Coder was chosen was their ability to highly customize the application for our group. They take an approach that every Physician group has slightly different work flows and their application is so customizable and flexible that we were able to quickly implement the MD Coder product. They interfaced their charge capture solution with our PM system and today we have a seamless solution. The patient rounding list is updated in real time by the physicians and our interfaces, and charges are seamlessly synchronized over to our centralized billing office before the physician even leaves the hospital. Most importantly, the team at MDTech is responsive, helpful, and accommodating. I would personally highly recommend MD Coder 10 Charge Capture for any practice looking for a Charge Capture solution or looking to replace an existing solution." Kelly Wolfe, Billing and Collections Manager.
"The implementation of SCSP was a resounding success. We had some internal concerns about user adoption. Moving our users from one system to a new system can have its challenges. Our Physicians had been accustomed to our existing vendor's application. We were thrilled that the rollout went so smooth. I can't say enough about the MDTECH team. They bring customer services and support to a whole new level. I have never had an experience where a company is always available, willing to make modifications and customizations and more importantly have a technology that is easily flexible and customizable,'' said Dr. Keith Bellovich, DO.
To take them from an existing system and transform them overnight to a mobile charge capture system with 100% adoption just continues to demonstrate to the market that our MD Coder Dialysis product is intuitive, effective and easily implementable for any Physician Group Enterprise," said Damon Spiegel, CEO & Founder of Medical Design Technologies.
MD Tech is pleased to be able to share the Dialysis module at the Renal Physicians Association conference Marcy 17-19, 2016 at the Sheraton Wild Horse Pass in Chandler, Arizona. We will be in booth #413 and hope to meet you there.
About Medical Design Technologies
Medical Design Technologies, Inc. is committed to providing most intuitive, innovative, and comprehensive enterprise solutions for physicians and healthcare organizations that leverage mobile and cloud technology. Our products add value not only to the physician and patient, but also to the overall healthcare system. MDTech draws on the experience and perspectives of leading physicians to develop innovative wireless and handheld solutions that are practical, usable, and relevant to the needs of healthcare providers. Medical Design Technologies is currently the market leader for mobile and web based charge capture solutions for physicians.