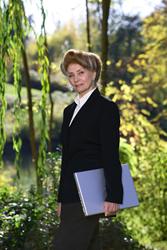 Grants Pass, OR (PRWEB) March 15, 2016
There are many important facts that we all know about water: That every organism on Earth requires water to live. That if we don't drink enough water we will become dehydrated and could die. That drinking contaminated water can make us ill, etc. With United Nations World Water Day approaching (March 22, 2016), fresh water advocate and radio host Sharon Kleyne will devote a portion of an upcoming show to presenting some equally important facts about water and health that are much less widely known.
For example, says Kleyne, the surface of the human eye is 99 percent water. If only 2 percent of that water evaporates due to climate change or air pollution, serious dry eye symptoms could result.
Kleyne will discuss World Water Day and facts we might not know about water and health on the upcoming Sharon Kleyne Hour™ Power of Water® radio show of March 21, 2016. The globally syndicated, education oriented show is heard weekly on VoiceAmerica (Health and Wellness, and Variety Channels) and Apple iTunes. For podcasts of past shows, go to http://www.voiceamerica.com/show/2207/the-sharon-kleyne-hour
Sharon Kleyne Hour® Power of Water® is sponsored by Bio-Logic Aqua® Research Water Life Science®, founded by Kleyne and specializing in fresh water, the atmosphere, body surface evaporation, dehydration and education. The Research Center's signature consumer product for supplemental eye moisture is Nature's Tears® EyeMist®.
.
March 22, 2016, will mark the 24th annual observance of U.N. World Water day, according to Kleyne. The observance was created by the United National General Assembly in 1992, on the recommendation of the U.N. Conference on Environment and Development. The theme of the 2016 observance is "Water and Jobs."
Regarding the eye surface, Kleyne notes that surface water is the eyes' primary refractor of light and that without this water coating (known as the :tear film"), vision would not be possible. The good news is that when air is clean, humid and not too hot, eyes are able to absorb water vapor directly from the surrounding atmosphere. In many parts of the world, however, supplemental eye moisture may be necessary to keep eyes healthy.
In addition to liquid, ice and vapor, Kleyne points out, a "fourth phase" of water was recently discovered by Gerald H. Pollack, Ph.D., at the University of Washington. This semi-viscous form develops when water touches other substances. It is the primary form of water within human cells, which are 70 to 80 percent water. To fully understand cell functioning, says Pollack, we must understand the behavior of fourth phase water.
Contrary to popular belief, Kleyne notes, there is more than enough water for everyone on the planet, even with climate change, drought and global warming. This includes water for drinking, cooking, sanitation, agriculture, industry and commerce. The problem is making the water safe to drink and getting it to where it is needed. Kleyne strongly advocates water impoundment and recycling – using local water over and over rather than continually importing water from thousands of miles away.
The term "bottom billion" (which is actually closer to 2 billion) refers to the number of people among Earth's 7 billion humans who lack daily access to safe and abundant water. These people have very high rates of dehydration, serious illness, blindness and mortality, especially among children.
Kleyne strongly recommends drinking eight full glasses of water per day – in addition to all other fluid intake. While the body is capable of extracting water from, for example, orange juice, Kleyne's logic is, "why make it more difficult for the body to absorb its water?" Kleyne advocates juices and foods with high water content as water supplements but suggests avoiding drinks containing alcohol, caffeine, carbonation or lots of sugar, all of which are dehydrating. For maximum benefit, drink two of the eight glasses upon rising and two more full glasses during the day. The remainder may be sipped. ©2016 Bio-Logic Aqua® Research Water Life Science®. All rights reserved.
Sources
"About World Water Day 2016," U.N. World Water Day, 2016
http://www.unwater.org/worldwaterday/about/en/
Pollack, GH, Ph.D., "The Fourth Phase of Water: Beyond Solid, Liquid and Vapor," Ebner & Sons, 2014