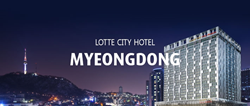 L7 Myeongdong caters to Leisure travellers while Lotte City Hotel Myeongdong serves the needs of premium business travellers, offering distinct amenities from which guests can experience Korean culture.
(PRWEB) March 23, 2016
An influx of Hallyu-inspired tourism, or tourism prompted by the "Korean Wave" of popular culture, has led approximately 10 million tourists to visit South Korea annually, according to a 2012 statistic. Particularly throughout the Myeongdong district, Seoul's shopping epicenter, hotel owners are taking advantage of a tourism boom which has generated an approximate $9.6 billion profit for South Korea. As one of the largest hotel chain operators in the country, Lotte Hotels & Resorts has been at the forefront of nationwide lodging expansions, and the company is cementing its presence in Myeongdong with the announcement of two new hotel properties: L7 Myeongdong being a lifestyle hotel and Lotte City Hotel Myeongdong being a premium business hotel.
Both properties are destined to become tourist hotspots, boasting convenient access to landmark sites such as the Dongdaemun, Namsan Mountain, Gyeongbukgung and the Myeongdong district shopping mecca. Each will feature its own unique ambience and cater to distinct demographics.
L7 Hotel opened with much fanfare in January, with a guest list featuring prominent Korean celebrities including internationally renowned photographer Todd Holoubek. The 21-story, 254-room boutique hotel appeals to the 20- to 40-year-old crowd by emphasizing trendiness over formality, as evidenced by casual staff uniforms featuring jeans and oxford shirts, bold interior color schemes such as lively yellow, and rooms custom-designed by graphic artists so that no two spaces are alike. For added extravagance, guests can choose from 3 types of suites, some of which feature a terraced garden that allows guests to enjoy greenery in an urban environment.
L7 Hotel guests can experience Myeongdong on rickshaw tours or allow staff to treat them to a full K-Pop star experience before unwinding with a foot soak and cocktail at the rooftop bar and foot spa. The stylish third floor lounge transforms from a café by morning, to a lunchtime beer pub by afternoon, and moonlights as a wine bar by night.
Business travelers and tourists, whether traveling solo or with a group or family, can all find practical hospitality at Lotte City Hotel Myeongdong. The 430-room, 27-story hotel is ideally situated just 40 minutes from Gimpo airport and a 1-hour shuttle ride to and from Incheon International airport (ICN). Lotte City Hotel Myeongdong also features MICE capabilities which can host meetings and functions from weddings to large conventions. Whether travelling for business or leisure, guests can rest their heads in amenity-packed rooms featuring state-of-the-art LG "smart" TVs.
L7 is a lifestyle hotel catering to leisure travelers, while Lotte City Hotel Myeongdong will serve the needs of premium business travelers visiting the Myeongdong area in the heart of Seoul. Following Lotte's recent announcement of plans to open a second L7 hotel in Hongdae, the company is anticipating a busy year ahead. To learn about L7 Myeongdong, visit http://www.lottehotel.com/l7/myeongdong/en/ To learn more about Lotte City Hotel Myeongdong, visit http://www.lottehotel.com/city/myeongdong/en/
Lotte Hotels & Resorts, (http://www.lottehotel.com) the largest hotel group in Korea, is expanding beyond Asia to become a global brand. The brand aims to make an impression on the hearts of guests with consistent quality of services and facilities in all Lotte chain hotels across the world. For guests who pursue a balanced lifestyle and know the value of refinement, Lotte Hotels & Resorts provides caring services and stylish, modern and comfortable rooms. Haute cuisine and state-of-the-art hotel facilities add to the truly unique experience. Lotte invites guests to find balance in their lives through sublime relaxation at any of its hotels and resorts.