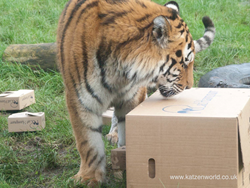 Who would have thought that Tiger's would be as mad about boxes as our feline friends at home!
(PRWEB UK) 30 March 2016
Katzenworld presents fun study on how not just house cats but also big cats are absolutely in love with boxes.
Big cats love boxes too!
Stoke-on-Trent based cat subscription box company Cat Hampurr had a real treat in store for some more unusual cats back in December as they visited Blackpool Zoo to help with the Zoo's enrichment program.
The company are more used to entertaining cats of the domestic variety but saw an opportunity to spread their feline friendly boxes further afield. "We visit Blackpool Zoo a few times each year" said Cat Hampurr founder Kelly Copeland, "on our last visit we saw the enrichment program and there were boxes in with the big cats. They seemed to be having just as much fun as the little cats do with our Hampurrs and that's where the idea came from."
The company invested in a batch of branded "super-sized" Hampurrs and contacted their usual suppliers to get them in on the action. "Everybody was really up for the idea, they sent over lots of really interesting textures, flavours and of course smells!"
It wasn't just the big cats getting in on the action either; some of the regular sized "Hampurrs" went in with the inquisitive Meerkats too.
The company also caught all the action on film have released the video on social media to find out just who liked the boxes the most, big cats, little cats or Meerkats.
For the full study and more photos please head over to Katzenworld here.
For further details on the story please contact Katzenworld Director Marc-Andre Runcie-Unger via email marc(at)katzenworld(dot)co.uk
About Katzenworld:
Katzenworld is an online cat magazine working on providing cat owners and cat lovers with their number one source for:

Insight on cat care
Top cat events
Cat Cafes
Cat products