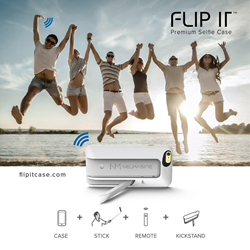 Los Angeles, CA (PRWEB) March 17, 2016
Finally, a selfie stick that's not embarrassing to carry around! FLIP IT is compact, sleek and as high-tech as the smartphone it protects. It's a premium iPhone case, with built-in selfie stick, wireless remote and kickstand that easily fits in a pocket or purse. No more carrying different gadgets to capture the perfect picture.
FLIP IT features include:

iPhone 6/6s protective and lightweight hard shell case: It's sleek, trendy and it protects the phone.
Solid built-in selfie stick: Get that perfect angle with the selfie stick that extends 22 inches.
Removable Bluetooth® handle remote: The wireless remote with an LED indicator can be removed from the case and allows users take a photo from up to 25 feet away from their phone.
Built-in kickstand: Rather be hands-free? The handy kickstand does the job-- just pop it out and prop it up for a perfect picture every time.
FLIP IT is available in white or black and fits the iPhone 6 and 6s (for now). Be the first to get one by going to their Kickstarter page.
About FLIP IT:
FLIP IT was born in January 2015 when creators Gianluca Camarda and Ali Khalili were traveling and noticed that people loved taking pictures but hated carrying multiple devices. They knew there had to be a better way to take pictures in a simple way while on-the-go. Not only did they find a solution, they made the selfie experience even better with 4-in-1 functionality. For more information and images: http://flipitcase.com/presskit.