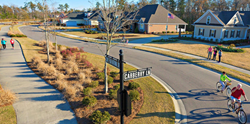 2016 Bliss Award Winner - Best Hiking Community of the Year
Wilmington, NC (PRWEB) March 16, 2016
One of the most popular requests Real Estate Scorecard receives from their readers is where to find walkable master planned communities in a mild four season climate. Folks desire to be able to walk to a coffee shop or to the food market from home. Today's Boomers prefer level topography and trails that give a feeling of stepping into nature. They also appreciate walking over wooden bridges, along a babbling creek, by a scenic lake and through a forested canopy. Among the long list of North Carolina coastal communities, Real Estate Scorecard found just the right spot for avid hikers, runners and walkers. Brunswick Forest is honored with the 2016 Bliss Award for Best Hiking Community of the Year.
Brunswick Forest nestled near Wilmington North Carolina has all of these trail features and more. There are over 100 miles of paved and unpaved walking trails connecting its neighborhoods to amenities, community parks, pathways and natural areas located throughout the 4,500 acre coastal community. No other community in the Wilmington area offers as many walking and biking trails as Brunswick Forest.
In addition to its independent trail system, the Leland North Carolina real estate development's sidewalks are 'super-sized', providing plenty of elbow room for walkers and bikers to pass. To Real Estate Scorecard, the twists and turns are a real work of art. A picturesque boardwalk meanders across the 343-acre, boot-shaped natural area in the heart of Brunswick Forest, with a four-mile loop of paths circling it. Meadow Park is 3 acres with trails, a playground and an off-leash dog park. Annsdale Park is home to the community's Annual Summer Concert Series, has bocce ball courts & horseshoe pits. The Community Commons is where you'll find an event lawn for gathering, covered pavilion and glass-enclosed, cedar-sided meeting room with a masonry fireplace, and a kitchen where cooking lectures and demonstrations are held regularly. The coastal community is pet friendly. In fact, the developer must love dogs too because they thoughtfully-built "Bark Park", one of the few off-leash dog parks in the area for the furry-four legged members of the family.
The hiking trail system safely connects to The Villages at Brunswick Forest, a 500,000 square foot retail complex with Port City Java, Lowes Foods, dozens of retail stores and professional offices. The area's leading medical network, New Hanover Regional Medical Center, has a 40,000 square-foot, state-of-the-art medical building in the heart of The Villages. This year, The Villages will welcome an Irish pub, a wine bar, a new Farm Bureau office, as well as offices for Swell Vision, Berry Financial, and CAMS along with one of Brunswick Forest's preferred builders, Legacy Homes by Bill Clark.
Amenities perfectly positioned throughout Brunswick Forest with connecting sidewalks and trail systems include an 18,000 square foot wellness center, several swimming pools, tennis courts, bocce ball courts, the Cape Fear National golf course, Town Creek river launch and the Community Commons.
Brunswick Forest celebrated a record year in sales, having welcomed more than 340 families during 2015 to this award-winning, lifestyle community. This brings the home count to over 1,700. Brunswick Forest looks forward to offering new models and styles of living in 2016 in the following neighborhoods:
Cape Fear National - Premier Golf Course Homes & Estates
Cypress Pointe - Classic Southern Architecture
Meadow Park – Cool, Breezy Bungalows
Park Landing - Coastal Cottage Inspired Homes in a Prime Location
Shelmore – Neo-Traditional Homes & Lakeside Estates
Tennyson Village - Low-Maintenance Coastal Town Homes
Home prices at the Leland North Carolina real estate development begin in the high $200k's. Its newest neighborhood is Cypress Pointe featuring classic southern architecture. Homes have expansive front porches, stately columns and classic gas lanterns. New home packages are priced from the $400k's.
The attractive coastal community is not within walking distance of downtown Wilmington, but it's pretty darn close. Its prime location is just 6 miles south of the historic Wilmington riverfront on the Cape Fear River. Folks don't have to travel far from Brunswick Forest to enjoy some of the finest beaches on the east coast either. Just across the Intracoastal Waterway from Wilmington, folks will find the island communities of Carolina Beach, Kure Beach and Wrightsville Beach.
Brunswick Forest won one of Real Estate Scorecard's first Bliss Awards back in 2012 for Best North Carolina Community of the Year. They've continued with fiscally smart development and are a role model in the real estate industry. As one of the finest walkable North Carolina coastal communities in the south, Brunswick Forest is honored with the 2016 Bliss Award for Best Hiking Community of the Year.
To request an information package and check on Discovery Package availability, contact Brunswick Forest directly at 877-588-4313.
About Real Estate Scorecard:
Real Estate Scorecard writes unbiased real estate reviews providing in-depth information about popular gated communities in Florida, Georgia, the Carolinas, Tennessee and Central America, all in an effort to help people discover where to retire in the South.
Website: http://realestatescorecard.com