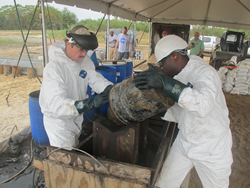 Successfully neutralizing the Confederate States Ship (CSS) Georgia civil war munitions for the U.S. Army Corps of Engineers constitutes a major milestone for our technology and scientists, says Dr. Valentine A. Nzengung, Founder, MuniRem Environmental.
Athens, GA (PRWEB) March 18, 2016
MuniRem Environmental, LLC, a pioneer in the application of innovative green remediation technologies for metals, explosives and perchlorate, announces the safe disposal of US Civil War Munitions. The company successfully neutralized the munitions for the US Army Corps of Engineers using its patented product, 'MuniRem'. The munitions, totaling 170, were recently removed from the Confederate States Ship (CSS) Georgia in the Savannah River, and safely breached and inerted by a team of engineers and scientists. The civil war era relics have been conserved by Texas A&M University, and distributed to museums nationwide. The historical find is the largest ever recovered and successfully inerted US Civil War munitions from a single underwater site.
"The U.S. and many other nations face the same legacy of war; unexploded land and underwater munitions that threaten human health and the environment," says Dr. Valentine A. Nzengung, Founder and CEO, MuniRem Environmental. "Though the explosive effects of bombs and ammunition are gone quickly, the substances that made them volatile linger indefinitely. Our product is a green technology; it transforms explosive contaminants into innocuous end-products in hours and users realize a life-cycle cost savings of 30 to 50% over other competing technologies. America's problem with unexploded war munitions has an environmentally friendly solution as our mission is to make life better by making our environment better," Dr. Nzengung concludes.
In addition to the military, MuniRem clients are explosives manufacturers, Fortune 500 companies and leading global engineering firms. MuniRem, an Award Winning technology, was also selected by the Association of University Technology Managers as a 2010 Better World Technology. Dr. Nzengung speaks on MuniRem worldwide.
For press interviews, contact Spencer N. Assah at +1-706-316-3525 or info(at)munirem(dot)com. To learn more about MuniRem, visit http://www.munirem.com
###
About MuniRem Environmental
MuniRem Environmental is a pioneer in the application of a portfolio of innovative green remediation technologies for metals, explosives, radiation, petroleum and perchlorate in various media. Its team of experienced scientists, engineers, academicians, and other professionals are dedicated to making a difference by providing clients and partners with demonstrably superior cost-effective green remediation technologies and solutions. MuniRem Environmental provides services to Fortune 100 companies, the military and environmental organizations. Its portfolio of technology products are used by leading environmental engineering firms throughout the world. The company's flagship patented product, MuniRem, is recognized by the United States Army Corps of Engineers to be safe, efficient and cost-effective through proven successes on numerous projects. MuniRem Environmental, LLC is headquartered in Athens, Georgia, USA
info(at)munirem(dot)com; Tel: +1-706-316-3525