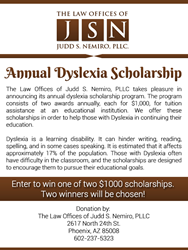 Phoenix, Arizona (PRWEB) March 22, 2016
Phoenix family law attorney Judd S. Nemiro and his law firm, The Law Offices of Judd S. Nemiro, PLLC, have announced a new scholarship program that will benefit those who have been diagnosed with dyslexia. Each year they will award two $1,000 scholarships to be used for tuition assistance for attendance at the educational institutions chosen by the successful applicants.
Dyslexia is the most common learning disability. It can interfere with a person's reading, writing, spelling, and even speaking. As a result, those with dyslexia experience difficulties in the classroom. Dyslexia affects about one in five people, and around three-quarters of children who are placed in special education classes because of learning disabilities are dyslexic. The goal of the scholarship program is to encourage those who are dyslexic to continue their education.
In order to apply, it is not necessary that an applicant be currently attending school. The program is open to anyone with dyslexia who would like to continue his or her education at a university, junior college, college, secondary school, or trade school.
Anyone who is interested in applying for a scholarship, or who would like additional information concerning the program, is invited to visit the firm's website, which provides the details of the scholarship program, the privacy policy, as well as the online application. The deadline for the submission of applications this year is November 4, 2016.
Questions should be directed via email to:
The Law Offices of Judd S. Nemiro, PLLC
2617 North 24th St., Suite 6
Phoenix, AZ 85008
602-237-5323
Email: michael(at)jnphoenixfamilylawyer(dot)com