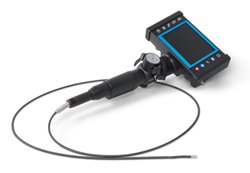 New VIDEOSCOPE-XT from STRAHL LLC
(PRWEB) March 15, 2016
STRAHL LLC has recently brought a one of a kind inspection device to the market. This is the VIDEOSCOPE-XT explosion proof camera with full 4-way probe articulation, large 5'' integrated display, built-in digital zoom, and a number of other highly useful features.
The VIDEOSCOPE-XT http://www.fiberscope.net/explosion-proof-borescope-xt.html stands out with its unsurpassed durability and longevity. In the absence of officially intrinsically safe cameras on the market the new scope is about as close you can get to the intrinsically safe standard. The camera has been tested to comply with the most rigorous military explosion proof requirements, to be specific under MIL-STD-810G, to meet the NFPA 70 – Class 1 Division 2 standard.
The new borescope comes in a variety of probe length and diameter combinations. 1.5 meters (4.9 feet) to 3 meters (9.8 feet) probes are available with a small 4mm (0.16'') diameter making the unit the preferred choice for aviation-related inspections. A larger 6mm (0.24'') diameter is available on a wider spectrum of probe lengths, from 1.5 meters (4.9') to 7.5meters (24.6'). The results of a live inspection are recorded as either .bmp files (for photos) or .avi files (for videos). A 32Gb SDHC card is good for up to over 30,000 photos or 500 hours of video recording.
The camera boasts a number of top notch features. The cold LED light built into the handle deserves a specific mention, since it prevents a possibility of spark formation, which is critical in an explosion prone environment. The VIDEOSCOPE-XT is ideal for use in fuel tank inspection, for military and security applications, in aviation and in power generation inspections. Its unsurpassed versatility, robustness and unique features make the VIDEOSCOPE-XT a good choice for a wide variety of tasks, particularly in environments which pose a risk of explosion.