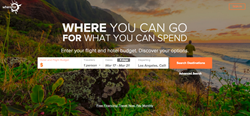 WhereFor is for the adventurous traveler who wants to explore their options, and the budget-conscious traveler who wants the best deal
Austin, TX (PRWEB) March 15, 2016
Onstage at SXSW's ReleaseIt, the launching platform for exciting new technology, WhereFor unveiled the first search engine to show people where they can travel for how much they want to spend. Based on budget and vacation dates, WhereFor.com searches over a billion flight and hotel price combinations to reveal every affordable travel destination on earth, and shows the best flight and hotel combo for each trip.
"WhereFor is for the adventurous traveler who wants to explore their options, and the budget-conscious traveler who wants the best deal," said CEO and co-founder Ryan Wenger.
Mr. Wenger was a corporate attorney who felt that the major search engines like Expedia weren't designed to help people decide where to travel. Although he was an outsider to the travel industry, the industry soon took notice. In 2014, Travelport--the company that provides air and hotel rates to the major online travel agencies--agreed to offer its global inventory and rates. That same year, Richard Bangs, co-founder of Expedia, liked the idea so much he joined WhereFor's board of advisors. Said Bangs:
"I see a lot of travel start ups, but searching based on budget rather than destination resonated with me. WhereFor often shows trips to Japan and Moscow for under $800, proving the world is cheaper than most people expect."
WhereFor also revealed their trip financing feature, which allows users to pay off their trip over 12 months with 0% interest, opening up even more travel possibilities.
About WhereFor
WhereFor is based in Los Angeles, California. It has raised approximately $400,000, and is currently raising another $1MM to accelerate growth.