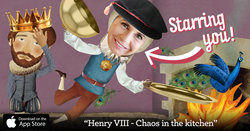 London (PRWEB UK) 21 March 2016
A new way for kids and relatives to bond, wherever they are
Gingersnap introduces an interactive Story App format with the personal touch
Digital media specialists, Gingersnap Studios, are this month launching a very different type of kids' interactive story app, that has been designed specifically for 'gifting' between family members, wherever they happen to live in the world.
This new format has been developed to allow family members to use their own iPad to pick animated adventures, customise them and then gift them on to their digitally-savvy kids - with the grown-up appearing on screen as a star in the story.
The platform was originally conceived to help combat isolation amongst the over 60s, helping grandparents to become more adventurous as they migrate to mobile devices. (There was a 600% increase in tablet adoption amongst over 55s between 2012 and 2014).
Travel presenter and Monty Python star Michael Palin was one of the first to endorse the: service:
"Good for Gingersnap …anything that helps bring grandparents and grandchildren together is worth celebrating."
Following an extensive Beta trial in 2015, the apps have now been extended to also offer opportunities for other relatives, including parents, godparents, uncles, aunts to join in the fun, sharing their own passions and interests with their kids
The children, in turn, get to unlock high quality 2D interactive stories about history, science, arts and nature etc. with a familiar face in a starring role, and solve puzzles, crack clues and complete games along the way. At the end of every story they are also encouraged to make a digital creation of their own, using in-app tools, that can be sent back as an electronic 'thank-you'.
Each adventure story has been developed with a leading museum or heritage organisation -- such as Historic Royal Palaces, National Trust, Tate Britain and the Wellcome Trust -- reviewed by learning experts and extensively tested with children aged 5-9.
The first story "Henry VIII - Chaos in the Kitchens" is available now for review. It will be formally released in the UK in June 2016, to coincide with the Hampton Court Palace Festival.
A US-focussed story about how Shakespeare's plays became popular during the Californian Gold Rush, is also now in production and available as a test release.
Over the course of the year, Gingersnap will be adding to this portfolio with a dozen other stories including "Mary Anning - the girl who discovered prehistoric sea-monsters", "Dr John Snow - medical detective" and "Art Heist - the fictitious tale of a bungled art robbery at Tate Britain"
The Gingersnap story apps have been designed specifically for the mobile age, with a tablet-first approach that recognises how both older and younger audiences are changing their media consumption habits. The ambition is to tap in on the passions of the older generation and spark curiosity and inspire creativity in the next.
There's far more to say about the Gingersnap adventures and a year's worth of in-home research that we can share with you if required. For more information, interviews, review versions and test codes please contact Alexandra using Alexandra(at)gingersnapteam(dot)com
Gingersnap is a digital social-purpose start-up company based in West London,
Website: http://gingersnap.tv/
Facebook: Gingersnapteam
Twitter: @gingersnapteam
USEFUL FACTS

There are over 56 million grandparents in the United States and 4 million in the United Kingdom (Various)
1 in 3 people over 50 is a grandparent (grandparentboomers.com)
A third of UK grandparents see that grandchildren once a month or less (Various)
46% of US grandparents wish they lived closer to their grandchildren. (Grandparents.com)
In the US an average $27.5 Billion is spent on grandchildren per year (grandparentboomers.com)
70% of UK children aged 5-15 have access to a tablet at home and 34% has their own device (Ofcom)
600% increase in over 55s tablet ownership in the UK 2012-2014 → reaching 28% ownership in 2014 (Ofcom)
207% increase in 55-64s tablet ownership in the US in the same time frame → reaching 43% ownership in 2014
263% increase in 65s+ → reaching 25% ownership in 2014 (Pew Research)
Over-50s hold over two-thirds of all household wealth in UK (Centre for Economics and Business Research).