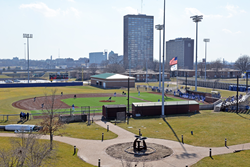 Adding turf is the only way you are going to be able to beat the ever-changing weather. The Shaw Sports Turf field really helps with practice and enables us to get more done. Head Coach Darin Hendrickson
St. Louis, Missouri (PRWEB) March 16, 2016
The St. Louis University baseball team has installed a new Shaw Sports Turf TruHop infield.
The Billikens baseball team will now play all its home games on the state-of-the-art surface, which was recently installed by Byrne & Jones Construction of St. Louis.
The Catholic, Jesuit school has nearly 13,000 students and fields a baseball team which plays at the Division I level.
Head Coach Darin Hendrickson said the addition of the synthetic turf playing surface was important to the team.
"Adding turf is the only way you are going to be able to beat the ever-changing weather," said Hendrickson. "The Shaw Sports Turf field really helps with practice and enables us to get more done."
The school selected TruHop for the playing surface. TruHop was developed by Shaw Sports Turf, along with baseball Hall-of-Famer John Smoltz.
"Baseball is a purist's game," said Smoltz. "That's why it's so important for synthetic turf fields to look and play like natural grass fields. That's why I worked with the R&D team at Shaw Sports Turf to develop the TruHop system."
Smoltz likened the TruHop system to a five-tool player in baseball. A five-tool player is one who can field, throw, run, hit for average, and hit for power.
In synthetic turf, a five-tool player is a field that has great aesthetics, is always available, provides performance and durability, allows reduced maintenance, and is safe.
Smoltz cites the consistency and availability of the system for hosting games. The system can be designed to feature turf on all parts of the field, including the mound, batter's box, and base paths. Infill levels can be adjusted to different locations on the field to adjust the levels of firmness and speed.
The TruHop system was the major reason the Billikens selected Shaw Sports Turf.
"We were very impressed with the Shaw Sports Turf presentation," said Hendrickson. "TruHop is a high quality product which provides as true a bounce as you can get. It will allow us to be competitive in the Midwest, host some tournaments in the summer, and it will help with recruiting."
The team has certainly been competitive so far. After installation, the team wasn't able to practice on the field before they had their home opener, which they won 2-1 in 12 innings. Since then they have won all four of their other home games by a margin of 24-3. They host their next home game on Wednesday, March 16.
"We are proud of our association with the St. Louis University Billikens," said Nathan Henderson, Territory Manager with Shaw Sports Turf. "We know that the TruHop system is going to serve them well in the development of their program and wish them all the luck in the world."
ABOUT SHAW SPORTS TURF
A wholly-owned subsidiary of Berkshire Hathaway Inc., Shaw Industries is a full flooring provider to the residential and commercial markets. Shaw supplies carpet, hardwood, laminate, resilient, and tile/ stone flooring products, as well as synthetic turf. Shaw Sports Turf is one of the leading synthetic turf companies in North America and has represented quality and innovation for more than two decades with over 1,500 successful installations, including an impressive list of high-profile field installations. For more information please visit http://www.shawsportsturf.com, call 866-703-4004 or find us on Facebook.