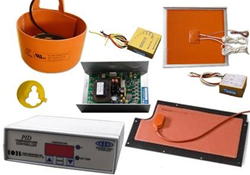 OVEN Industries, experts in precision temperature applications, reveals extensive capabilities in Heater Blanket
Mechanicsburg, PA (PRWEB) March 16, 2016
OVEN Industries has been in the business of temperature control and sensing for over 50 years. Heater Blankets are one type of product that come in all sorts of shapes and sizes. They can be designed for use with AC or DC voltage. They operate on low or high voltage and can have a low or high watt density per square inch providing consistent heat on all required surfaces.
Heater blankets are utilized in a variety of industries. Their uses span a broad spectrum of purposes and can support many situations that require uniform heating across small or large surfaces. Many applications need a product that is robust and reliable through many temperature cycles and over long periods of time. In addition, companies often purchase the Heater Blankets from one source then purchase the Temperature Controllers from another source. This can lead to inconsistent product performance. One of the strengths of OVEN Industries is in the capability of designing both the Heater Blanket Sensors and the Temperature Controllers in unison. Having the ability to provide in-house design with matched electronic control and sensing, along with high quality components, gives OVEN Industries the advantage over simply being just another supply source.
OVEN Industries, Inc. (OI) was founded in 1964 and specializes in the development of custom electronic temperature controllers and sensors. OI supplies precision electronic system design and manufacturing that serve an array of clients not limited to these industries; aerospace, automotive, biomedical, military defense markets, medical and pharmaceutical, telecommunications and semiconductor.
Contact OVEN Industries at 877-766-OVEN for more specific application or visit http://www.ovenind.com