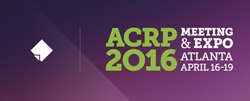 Atlanta, GA (PRWEB) March 22, 2016
CSM, a leading provider of clinical trial supply solutions, announces that its executives will host a panel session at the Association of Clinical Research Professionals (ACRP) 2016 Annual Meeting and Expo. The conference will take place from April 16 to April 19, 2016 at the Georgia World Congress Center in Atlanta, Georgia.
In this panel session, experts will discuss how traditional supply chain methods are simply inefficient when it comes to the needs of patients in clinical research. Attendees will gather helpful insights on how to deploy the new process of shipping IDP (investigational drug product) directly to a patient's home.
Moderating the session is Gerald Finken, a thought-leader and visionary in the clinical trial sector as well as the founder and CEO of CSM and Center Point Clinical Services. Panel members will include Hailee Hunt-Hawkins, Study Coordinator at Vanderbilt Kennedy Research Center, Bob Albanese, Senior VP of Strategic Development at CSM, and Tina Schlecht, President at Center Point Clinical Services.
Session Title: Patient-Centric Medication with Direct-to-Patient Shipping
Panel Objectives:

Describe innovations in patient-centric clinical research and precision medicine.
Define the roles and responsibilities in providing direct-to-patient shipping.
Identify lessons learned from previous direct-to-patient studies.
Date: Sunday, April 17, 2016
Time: 8:30AM to 10:30AM
Where: Georgia World Congress Center, A401, Level Four, Building A
About CSM
CSM provides packaging, storage, and distribution services with quality-driven processes to enhance biotechnology and pharmaceutical clinical trials worldwide. The company has continued to evolve with its blend of unique and traditional clinical trial services that improve efficiency and accuracy.
CSM is the innovator of On-Demand Packaging and Labeling services, an industry breakthrough in which clinical supplies are made specifically for, and immediately prior to, each shipment. Some of CSM's other core services include: traditional packaging and labeling, cold chain logistics, controlled drug services, returns and reconciliation, clinical label printing, and global distribution. For more information, visit http://www.csmondemand.com.
About ACRP
The ACRP Meeting & Expo is uniquely focused on supporting the professional growth and development of individuals conducting clinical trials through education, exchange, and peer-to-peer engagement. Individuals who attend the ACRP Meeting & Expo learn new knowledge, skills, and best practices while obtaining advice from subject matter experts that help improve on-the-job performance. Their comprehensive program is designed to give attendees the full range of a clinical research education, from the basics that every clinical research professional needs to the innovative ideas that are changing how you work. For more information on the meeting, visit http://www.acrp2016.org.
###