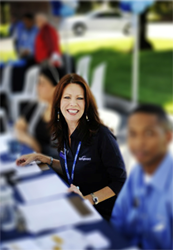 The upcoming webinar covers time-tested strategies to budget, manage and prioritize one's paycheck.
Riverside, CA (PRWEB) March 15, 2016
Springboard Nonprofit Consumer Credit Management, Inc. ("Springboard") is offering a free financial webinar as part of its ongoing nonprofit mission.
The upcoming webinar, "The Power of Paycheck Planning," covers time-tested strategies to budget, manage and prioritize one's paycheck. Learn tactics for categorizing your expenses, tracking your spending, and tips for putting together a new budget. It will be presented on March 17, 2016, at 10 am PDT.
To attend the webinar, participants can register at http://bit.ly/1QVldFp
Those who register will receive a confirmation email containing information about joining the webinar.
Presenting the webinar for Springboard will be Lori Lamb. "Lori's a passionate financial educator," said Melinda Opperman, Springboard's Chief Relationship Officer. "Lori brings her strong background, experience and knowledge of the financial industry to help consumers gain the knowledge they need to succeed financially."
Lori has two decades of front-line experience in the industry. Lori holds certifications in the following consumer credit laws: the Fair Credit Reporting Act and the Fair Debt Collections Practices Act, and certifications with the National Foundation for Credit Counseling ("NFCC"). Lori was named nationwide Educator of the Year by the NFCC.
Springboard routinely offers free education online, complementing its certified nonprofit financial counseling services. Coaching is available by calling 800-449-9818, or visiting http://www.credit.org. They also offer a free "Financial Instructional Training," or FIT Academy with free online courses, educational materials and downloads. Anyone may visit the FIT Academy at http://www.credit.org/courses.
About Springboard
SPRINGBOARD® Nonprofit Consumer Credit Management is a nationwide 501(c)(3) non-profit personal financial education and counseling organization founded in 1974 with the mission of improving the financial wellbeing of individuals and families. Springboard is a U.S. Department of Housing and Urban Development approved housing counseling agency and a member of the Financial Counseling Association of America and the National Foundation for Credit Counseling; the nation's longest serving nonprofit financial counseling organization. Springboard is also a proud member of the HOPE NOW Alliance, a cooperative effort between the U.S. government and mortgage market participants to help struggling homeowners. Springboard offers personal financial education and assistance in credit counseling, housing counseling, reverse mortgage, debt and money management, pre-bankruptcy counseling, and debtor education through educational programs and confidential coaching. Springboard is accredited by the Council on Accreditation, signifying the highest standards for agency governance, fiscal integrity, counselor certification, and service delivery policies. Counseling is available by telephone nationwide or in-person at office locations in California, Arizona, Massachusetts, New Mexico, South Carolina, and Texas. For more information, please call 800-449-9818 or visit their website at http://www.credit.org.