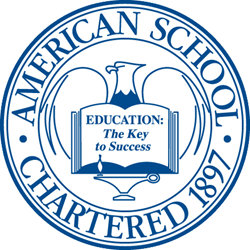 Lansing, IL (PRWEB) March 29, 2016
American School isn't fooling around during the month of April. In fact, the distance learning school offering accredited courses at an affordable cost is busier than ever, with plans to attend four conventions in four states during the fourth month of the year, starting with the ASCD Convention in Atlanta from April 2-4.
"We're excited to meet curriculum directors and tell them about our accredited middle school and high school courses," American School President Gary R. Masterton said. "This is the fourth straight year we've attended this event, and each year we get a bigger and better response."
Guests at the ASCD show are invited to stop by booth 1238 at the Georgia World Congress Center on April 2 from 8:30 a.m. to 5 p.m.; April 3 from 8:30 a.m. to 4 p.m.; and on April 4 from 8:30 a.m. to 1 p.m. and meet with American School representatives.
Following the ASCD Conference, American School's next stop will be its inaugural appearance at the Midwest Parent Educator Conference in Kansas City on April 22 and 23.
"We've heard great things about the MPE show, but have never been able to fit it into our schedule until this year," Masterton said. "With our new middle school courses, we think it's the perfect time to make our MPE debut."
Visitors to the MPE Conference can stop by booth 812 at the KCI Expo Center on April 22 from 9 a.m. to 6 p.m. and on April 23 from 9 a.m. to 5 p.m. American School representatives will have plenty of middle school program, high school diploma program, and individual subject enrollment applications on hand.
The following week, American School will attend two more shows. The first is the ISCA Conference in Rosemont, which is expected to draw school counselors from Chicagoland to the Donald E. Stephens Convention Center, where they are invited to visit American School's booth from 8 a.m. to 3:30 p.m. on April 29.
"We've enjoyed a good relationship with school counselors from our home state and love meeting them at ISCA Conferences downstate and closer to home," Masterton said.
The other event during the last weekend in April is the Oklahoma Homeschool Convention in Oklahoma City. The 2016 event marks American School's return to the OCHEC Convention, and this year's event will be held at the Cox Convention Center on April 29 from 9:30 a.m. to 6:30 p.m. and on April 30 from 9 a.m. to 5:30 p.m.
"We try to visit as many different states as possible during the year, and we're excited to make it back to Oklahoma sooner rather than later, no pun intended," Masterton said.
For more information on American School, visit http://www.americanschool.org or call 866-260-7221.