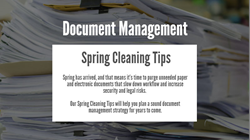 (PRWEB) March 19, 2016
With spring around the corner, DATAMARK, a leading provider of outsourced business services, is encouraging businesses and organizations of all sizes to embark on a "spring cleaning" of paper documents and paper-based business processes.
DATAMARK is sharing a number of useful suggestions and strategies in a new infographic, "Document Management Spring Cleaning Tips," now available on DATAMARK's Outsourcing Insights blog.
To help businesses kick off a document clean-up, we share five of our best tips below:

Make sure your document and records policies are clear and accessible throughout the organization.
Eliminate hard-copy clutter by not creating it in the first place--look for ways to introduce and incorporate digital workflows in your processes.
Work with your legal and compliance teams to review and update your document retention schedule.
Consider the business value of documents, as well as legal requirements, when deciding which records to retain. Avoid keeping documents that have no business value.
Only collect or keep sensitive personally identifying information if you have a legitimate business need for it--and then only keep it as long as necessary.
Read a dozen more useful document management tips by checking out the infographic at this link:
About DATAMARK
DATAMARK, Inc. is a leading business process outsourcing company specializing in contact center services, high-volume digital mailroom management, document processing/document management, and process improvement consulting for Fortune 500 companies and other large enterprises.
Headquartered in El Paso, Texas, DATAMARK employs nearly 2,200 people in its U.S., Mexico and India facilities. For more information, visit http://www.datamark.net. Follow industry news and trends at DATAMARK's Outsourcing Insights blog at http://www.datamark.net/blog.