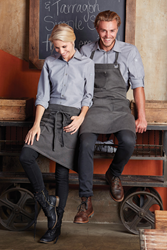 "We are fortunate to have a brand that is like no other – it's sexy, eye catching, and a true a market leader; however, in Canada it's the best kept secret – but not for long."
Poway, CA (PRWEB) March 21, 2016
Chef Works Inc., a global culinary and hospitality uniform apparel brand, announced last month that it acquired Chef Works Canada under its corporate umbrella. Chef Works, Inc. now includes both the United States and Canada. The acquisition will improve uniformity and consistency to all Chef Works customers within both territories as well as bring the Chef Works value proposition to the Canadian market.
Chef Works will continue to service the Canadian territories through its existing distribution center in Toronto, and is targeting to have the new, expanded Toronto corporate office and distribution center up and running by the third quarter of this year. The updated operations will allow for smooth systems communications between the US and Canada and provide improved benefits for its loyal Canadian customer base.
To prepare for its expansion, Chef Works has named Jeff Berman as president of Chef Works Canada to head up operations, sales and marketing in the new Canadian territory.
"This is an exciting time for the team at Chef Works Canada, to be part of the larger family and benefit from what the corporate office has to offer," said Berman. "We are fortunate to have a brand that is like no other – it's sexy, eye catching, and a true a market leader; however, in Canada it's the best kept secret – but not for long."
"The Canadian marketplace is hungry for what we have to offer (no pun intended) and now we will be better positioned to serve our customers. Having a wider selection of product, increased inventory, in-house embroidery, coupled with largest range of apparel in the industry, will make us extremely attractive to the culinary business here in Canada. And we are eager to serve."
Some upgrades that Chef Works Canada customers will soon benefit from include increased personalization and customization options and a wider range of Chef Works apparel selections, including waitstaff uniforms. These uniforms will feature some of Chef Works' hippest style trends and most affordable prices to hit the industry to date. The uniform expansion will also include Chef Works' award winning Cool Vent Collection and popular Urban Collection. Customers will benefit from Chef Works Central, its technology platform that will provide easy access to order information, including tracking, inventory, shipping, and invoices at the touch of a button. Customers will also see faster turn-around times on their orders.
"In the end, as long as our customers continue to feel amazing wearing their Chef Works gear, that they feel they are getting a great product for a great price, and we stay current in the ever-changing culinary and hospitality trends, it's a win-win situation for all," said Neil Gross, chief executive officer of Chef Works.
About Chef Works
Chef Works is a respected, worldwide brand offering solution-based, award-winning uniform designs to the culinary and hospitality industries. As an industry leader, Chef Works expertly combines innovative product design with branded uniform solutions keeping us at the forefront of the marketplace with our proprietary designs and annual product launches into the ever-evolving uniform world.
Chef Works, Inc. distributes to all market channels in the USA from its hi-tech Distribution Center in Poway, San Diego, CA complete with onsite embroidery and alterations departments. The solution-based programs we provide are suited to our diverse customer base of companies of all sizes with varying demands.
Our high standard of customer service is enhanced by the support of an advanced technology platform in uniform supply management that supports brand continuity, online ordering (including branded customer portals), EDI compliance, personalized reporting, budget coordination and uniform design plus much more.
You can currently find the Chef Works brand in over 65 countries with distribution expanding in to new territories each year. We remain resolute in our mission to pair advanced technology solutions with the high-quality products to ensure complete satisfaction that exceeds customer expectations. For more information, visit http://www.chefworks.com.