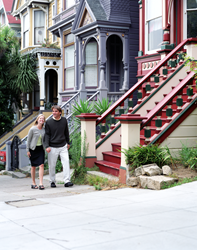 San Francisco, CA (PRWEB) March 15, 2016
One of the most picturesque places in San Francisco is getting a bit of a makeover. Alamo Square Park, home of the famous Painted Ladies, will be closing for much of 2016 so that the San Francisco Recreation & Parks Department can make improvements that will further beautify the park. But don't worry, if it's stunning views, green spaces and Victorian architecture you're after, San Francisco has plenty of other sites to visit.
A Green City, In More Ways Than One
When you consider how much park space San Francisco has, it's no wonder its residents are so environmentally conscious. The parks are all unique and offer a variety of experiences beyond ample shade and picnic space. Lincoln Park, on the city's west side, offers stunning views of both the Pacific Ocean and the priceless art in the Legion of Honor. Golden Gate Park's 1,000-plus acres contain the Conservatory of Flowers, the de Young Museum and the California Academy of Sciences. The enormous Presidio, a former military base, has trails, campgrounds, The Walt Disney Family Museum, and outstanding new restaurants within its more than two square miles of protected land. Another former outpost, Fort Mason, is now home to open fields, cutting-edge arts and culture venues, and a weekly gathering of some of the city's best food trucks. A bit west of Fort Mason is Crissy Field, a wide flat stretch of parkland that was once filled with military aircraft. It has been restored to its original salt marsh wildness, offering visitors a chance to see a variety of native birds and plants.
Go Straight to the Top
The view stretches from the ocean to the bay at Twin Peaks. Visiting at dusk rewards visitors with a sparkling view of Market Street as it cuts through downtown San Francisco. Corona Heights Park is an underrated local favorite that isn't on most visitors' agendas, but you'll up your Instagram game if you reach its rugged summit. Getting to the top of Bernal Heights Park is half the fun. Take the Esmerelda Steps from the western slope to the summit for a genuine walk in the woods. Take a break to enjoy the park's famous slides. Mt. Davidson is the highest point in San Francisco. Laced with trails, it is capped by a 40-acre park and a 103-foot-high cross.
Sunday In the Park with Everyone
San Francisco's parks are the city's great meeting places. For an authentic local experience, head to Dolores Park on a warm weekend. With few tall buildings or trees along its perimeter, the park soaks up the sun and attracts residents from all over. When you're done lounging, explore the Mission neighborhood to find the perfect place to eat.
A View That's Worth the Ride
Cross the Golden Gate Bridge--whether by car, bus or bike--and you'll be in Marin County. The steep Marin Headlands that help anchor the bridge give visitors expansive views of the entire San Francisco Bay. Just try not to go there when the fog is in. It will make snapping that perfect picture and navigating those winding roads much harder.
Life's A Beach In San Francisco
San Francisco Bay might be only for the strongest of swimmers, but visitors can still enjoy the city's beaches without getting wet. With great views, easy access and perfect conditions for kite-flying, San Francisco's beaches should be a must-see on everyone's list.
San Francisco's Historic Style
Alta Vista Park, a block west of bustling Fillmore Street, and Buena Vista Park in the historic Haight-Ashbury neighborhood are perfect places to can sit in the grass and admire some quintessential San Francisco architecture. Victorian home tours provide an up-close look at some of the city's gorgeous homes.
Other Architectural Marvels
Bright and bold Victorians are just one of the many striking structural styles to spy around the city. Walk the city with an expert from Fern Hill Walking Tours or get a guided tour of some exquisite craftsmanship at the Haas-Lilienthal House. So many of the locations mentioned here are achievements of design in their own right, whether it's the Beaux Arts Legion of Honor or the 21st-century sustainable architecture of the California Academy of Sciences. The newest architectural landmark in the city is SFMOMA, which will be opening to eager visitors on May 14, 2016.
Use the Cable Car As A Moving Photography Studio
There's no better way to canvas San Francisco's most photogenic locations than by cable car. Taking the California Street cable car west from the Financial District will give you a chance to prove to your friends that the city's hills are no joke. The Powell-Hyde and Powell-Mason cable cars will take you through Nob Hill and Russian Hill, down to Fisherman's Wharf and past some of the city's most famous sights such as Lombard Street.
Bike the City
San Francisco is one of the bike-friendliest cities you can visit. Rent a ride with Spinlister and explore the city. You can pedal along the Embarcadero or through Golden Gate Park, filling up your memory card with pictures of all the different vantage points San Francisco has to offer.
Other Parks Beyond San Francisco
San Franciscans are understandably proud of their city's parks, but they're also lucky to have some equally outstanding parks within driving distance beyond the city. There's Muir Woods to the north, home to some of California's legendary redwoods. To the east is Yosemite National Park, one of the country's longest protected and most pristine wilderness areas. And to the south is Monterey, with its world-famous aquarium and marine sanctuary that guarantees a chance to see ocean creatures both in captivity and the wild.
The San Francisco Travel Association is the official destination marketing organization for the City and County of San Francisco. For information on reservations, activities and more, visit http://www.sanfrancisco.travel, read the Visitors Planning Guide or call 415-391-2000. San Francisco Travel also operates Visitor Information Centers at Hallidie Plaza, 900 Market Street at the corner of Powell and Market streets and on the lower level of Macy's Union Square. For more information, visit http://www.sanfrancisco.travel.
American Express® is the official Card partner of the San Francisco Travel Association.
San Francisco International Airport (SFO) offers non-stop flights to more than 40 international cities on 34 international carriers. The Bay Area's largest airport connects non-stop with 77 cities in the U.S. on 13 domestic airlines. SFO offers free upgraded Wi-Fi with no advertising. For up-to-the-minute departure and arrival information, airport maps and details on shopping, dining, cultural exhibitions, ground transportation and more, visit http://www.flysfo.com. Follow SFO on http://www.twitter.com/flysfo and http://www.facebook.com/flysfo.
This article is also available at http://www.sanfrancisco.travel/article/alternatives-alamo-square-park.
Note to editors: Photos and press releases are available at http://www.sanfrancisco.travel/media.
For news and story ideas, follow @SFMediaRelation on Twitter and @OnlyinSF on Instagram.
Sign up for e-newsletters on San Francisco travel, culinary, LGBT or Illuminate SF Light Art news.