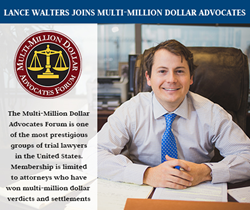 Houston, TX (PRWEB) March 15, 2016
Lance N. Walters, a personal injury attorney at Tracey & Fox, has recently been admitted to the Multi-Million Dollar Advocates Forum®, placing him among the top one percent of trial lawyers in the country.
Established in 1993, this coveted membership is based upon strict objective qualifications. In order to be considered for membership in the Multi-Million Dollar Advocates Forum, attorneys must have obtained a verdict or settlement totaling two million dollars or more while acting as Principal Counsel. According to the Forum's website, doing so is a testament, in an objective and tangible way, to the attorney's ability to accomplish exemplary results in complex cases.
Learn more about the Multi-Million Dollar Advocates Forum online for further information.
Lance has been with Tracey & Fox for more than eight years. In this time, he has focused his practice on the areas of personal injury and premises liability and achieved numerous successful outcomes for his clients. He is an unrelenting advocate who enjoys helping to improve the lives of injured people. Lance is admitted to the Texas Bar and the United States Southern District Court of Texas, and is a member of the American Association for Justice, the Texas Trial Lawyers Association, and the Houston Trial Lawyers Association.
Tracey & Fox has more than a century of combined experience serving clients from three Texas locations in San Antonio, Dallas, and Houston. The firm has successfully obtained tens of millions of dollars for clients in a variety of personal injury cases, including those involving auto accidents, workplace injuries, dangerous products, defective drugs and medical devices, and wrongful deaths. Visit Tracey & Fox online at http://www.traceyfoxlaw.com for more information and to get in touch with an attorney.