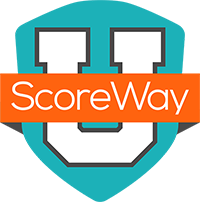 I access my ScoreWayU account every opportunity that I get. It has really raised the bar for the credit repair industry. I'm glad I subscribed. It's made a real difference in my business
Mobile, Alabama (PRWEB) March 17, 2016
According to Joel Pate (CEO, Scoreinc.com) "The ScoreWay University contains hundreds of hours of new video training that will help the experienced credit repair business executive train their entire company, and the credit repair business startup build their business more quickly and in a compliant manner."
Since 2010, Scoreinc.com has provided services to over 600 credit repair companies and currently serves over 200 active companies. As the largest dispute outsourcing company in the industry, the owners of Score were in a position to really understand the needs of the credit repair industry operators. From this vantage point, Scoreinc.com founder, Joshua Carmona, set about to build the industry's most complete credit repair business training university that will empower credit repair businesses to be compliant and successful.
"I am absolutely blown away. I've been watching the videos and they are very informative. The first time I heard about ScoreWay U I was so excited to have an updated credit repair business training option. While most of the content has no cost to everyone in the Credit Repair Business, it is important to me that I invest $79 per month to gain access to over ninety hours of additional training from Scoreinc.com's Credit Repair Summit 2014 and 2015 as well as the upcoming 2016 Summit in October. This is the best training ever," according to Lucy Brenton
ScoreWayU is built for the busy credit repair business owner.
With ScoreWayU, all of the content can be watched or listened to while at home, in the office, in the car or at the gym. The training includes sessions on "How Credit Repair Companies Can Build Relationships with Realtors and Mortgage Professionals", "How Credit Repair Companies Can Build Relationships with Car Dealers" and much more.
"I access my ScoreWayU account every opportunity that I get. It has really raised the bar for the credit repair industry. I'm glad I subscribed. It's made a real difference in my business" according to Kelly Wells long time credit repair business owner.
"When it comes to credit repair business training, ScoreWay U is the best value in the credit repair industry for credit repair compliance, credit repair sales, credit repair business operations and credit repair dispute process training in the industry today", according to Joshua Carmona company VP/CTO/Founder.
If you are ready to have the most up to date and relevant credit repair business training, sign up today to ScoreWay University on the following link: http://www.scorewayuniversity.com