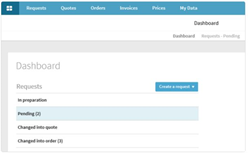 The use of the client portal will noticeably shorten project lead times and streamline processing of all orders.
Fort Worth, Texas (PRWEB) March 17, 2016
As of March 1st, TLC has transitioned existing clients to the new platform. In the following weeks, all clients will be offered free access to a client portal. The portal contains a dashboard with information about all projects of the given client.
The main advantages of the portal are:
1. Requesting quotes: The client has the ability to upload documents at any time and request a quote from their project manager.
2. Managing orders: Once a quote is converted into an order, it can be tracked under the "Orders" tab of the portal. Translated documents can also be picked up in this area. Clients can also enter feedback information here or contact their project manager directly.
3. Tracking invoices: After the translation is completed, the project manager issues an invoice; it can be found under the "Invoices" tab. Invoices can also be exported into Excel from here.
4. Referring to price lists: The client-specific price list is under the Prices tab and contains all relevant pricing information with breakdown to individual language and quality level categories.
5. Updating client data: The "My Data" tab serves as an overview of the client's information, including contact information, login, contact persons and contractual information, if applicable. Any data can be updated from here as well.
The Plunet environment is user friendly and easy to navigate. TLC hopes that the implementation of this platform will improve accessibility for all existing and future clients. In addition, TLC looks to transfer as much control over ordering and delivery into the client's hands as they desire. The use of the client portal will also noticeably shorten project lead times and streamline processing of all orders.