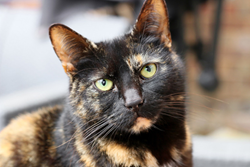 The study surveyed 1274 guardians of cats, asking them for demographic information about their cats as well as various questions about their cats' behaviours.
(PRWEB UK) 16 March 2016
Online magazine Katzenworld recently teamed up with International Cat Care's to publish a research study of a group of scientists at the University of California, Davis. Please find an excerpt of this below:
Scientific study investigating whether coat colour is linked to aggression in cats
You may well have read in the media in the past couple of weeks that cats of certain coat colours are more likely to be aggressive. Such stories were based on the recent research study into the possible relationship between coat colour and aggressive behaviours in the domestic cat, conducted by scientists at the University of California, Davis and published online in the Journal of Applied Animal Welfare Science in October 2015.
These scientists wished to investigate whether there was any truth behind the often stated ideology that cats with sex-linked coat colours such as tortoiseshell and calico are more aggressive – "naughty torties" or "tortitude" are not unheard of terms among cat owners. However, scientific evidence behind such ideas is lacking.
What is a sex-linked coat colour?
"Sex-linked" coat colours are specific colour patterns that are linked to genes on the X chromosome. Since females are XX and males XY, only male cats with an extra X chromosome (XXY) can exhibit such patterns, making them extremely rare in males – hence why tortoiseshell cats are commonly female.
Tortoiseshell coats – red and black are combined in two solid colours
Calico coats – red and black interspersed with white (thus tricolor)
Torbie coats – a tortoiseshell colouring in a tabby coat (striped or spotted coat)
The results of the study suggested that increased aggression toward humans may exist among sex-linked females and, surprisingly to the authors, gray-and-white cats, and possibly black-and-white cats, compared with cats of other colours. However, let's not forget the word "suggest" – when reading the paper from a scientific viewpoint, there are several critiques (many of which the authors themselves identify) that lead to the conclusion that more research is needed before any kind of confirmation of such results. Sadly for cats, media reports appear to be running away with this suggested result, even suggesting which type of coat coloured cats will make better pets. Such sweeping statements have great potential to damage feline welfare. The last thing we need are cats being overlooked simply because of the colour of their coat. So let's move away from journalistic style and instead objectively assess the science – after all, we owe it to our cats.
For the full study please head over to Katzenworld here.
For further details about the study please email Katzenworld Director marc(at)katzenworld.co.uk
About Katzenworld:
Katzenworld is an online cat magazine working on providing cat owners and cat lovers with their number one source for:
Insight on cat care
Top cat events
Cat Cafes
Cat products
About International Cat Care:
International Cat Care works to create a world in which 'all cats, owned and unowned, are treated with care, compassion and understanding' International Cat Care is a charity with the vision of a world where all cats, owned and unowned, are treated with care, compassion, and understanding. We work closely with the veterinary profession through our veterinary division, the International Society of Feline Medicine. All our work is reliant on donations and legacies.
Founded in 1958, we are a respected authority on feline health and best practice, working with owners, vets and other professionals around the world.
Registered Charity – 1117342
Reference for the study:
Elizabeth A. Stelow, Melissa J. Bain & Philip H. Kass (2015): The Relationship Between Coat Color and Aggressive Behaviors in the Domestic Cat, Journal of Applied Animal Welfare Science, DOI: 10.1080/10888705.2015.1081820