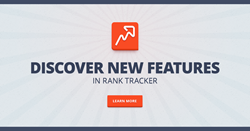 (PRWEB) March 16, 2016
Link-Assistant.Com, the leading SEO software provider and the company behind SEO PowerSuite, announced today the addition of Semantic Keyword Groups and Keyword Maps to Rank Tracker. As a result, the updated Rank Tracker has become a comprehensive app for getting solid keyword ideas, analyzing their potential, uniting them semantically by topics and building keyword maps.
Focused on keyword research and rankings, Rank Tracker is one of the four tools in the SEO PowerSuite toolkit.
The updated Rank Tracker lets users:
1. Get relevant keyword suggestions
Rank Tracker's 20 keyword research methods let users select the most suitable and high-ROI search terms from the widest pool of keyword suggestions. With the today's update, users may also specify negative keywords to filter out completely irrelevant suggestions right from the start.
2. Determine topics and keyword groups
Google's Hummingbird update has shifted the perspective of the SEO professionals from researching separate keywords to researching groups of related terms and synonyms. To meet this need, Rank Tracker's new Keyword Research module provides users with an ability to build lists of thematic keyword groups.
3. Select high-performing terms
Efficiency stats let Rank Tracker users pick their top terms for SEO and PPC, and then move them to Target Keyword Module for mapping and tracking.
4. Analyze keyword difficulty
With the latest Rank Tracker update, users can check Keyword Difficulty in bulk for the entire keyword groups, not just individual terms.
5. Build keyword maps
The newly-added Keyword Map module lets users map their keywords and entire keyword groups to landing pages. This way, Rank Tracker users see their entire keyword universe, associated with specific pages, at a glance.
6. Generate custom reports
Rank Tracker reports got updated with the new data. Users can now add Keyword Analysis by Keyword Group and Keyword Analysis by Landing Page to their favorite report templates.
More information about A to Z keyword research in Rank Tracker is available in the explanatory blog post. To keep track of SEO PowerSuite's updates and news, users can follow the company on Facebook fb.me/LinkAssistant, Twitter @LinkAssistant and Google Plus gplus.to/LinkAssistant.
About SEO PowerSuite
Organic search drives half of all website traffic- the most traffic of all digital channels. For any business, picking the right SEO platform to leverage the power of search is essential. SEO PowerSuite, the highly recognized suite of tools regarded as the defacto standard for SEO, combines the power of state-of-the-art, enterprise-trusted search tools with the affordability and ease-of-use of an "out-of-the-box" solution. SEO PowerSuite's free edition can be downloaded at the official website.