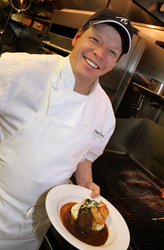 Boston, MA (PRWEB) March 17, 2016
The Trustees is delighted to welcome special guest Chef Paul Wahlberg for a memorable evening at The KITCHEN at the Boston Public Market this spring. On Wednesday, April 13 from 7PM-9PM, Wahlberg—owner and executive chef of Hingham-based Alma Nove and popular better burger restaurant Wahlburgers—will lead an interactive cooking demonstration on how to prepare a meal of fresh, seasonal, and locally-sourced foods from the natural bounty of New England straight from the Market floor. The hour-long demo will be followed by a seated dinner where event attendees can enjoy the fruits of their labors.
"I'm excited to have this opportunity to teach a class at The KITCHEN at the Boston Public Market, with ingredients sourced from the great lineup of vendors featured at the Market," says Chef Paul Wahlberg. "This Market and the teaching space The KITCHEN brings to it represent a much-needed and unique opportunity to support the regional farms, farmers, and small businesses that are so important to the health and sustainability of our local economy and food movement."
"We are honored to highlight a locally grown chef in The KITCHEN at the Boston Public Market," adds Barbara Erickson, Trustees President and CEO. "Paul is not only a talented and creative chef but also a generous community partner and advocate for locally sourced food."
A portion of the ticket sales from the event will help feed local families through the Wahlberg family charity, Alma Cares, which fed 1,500 families in need last year. Tickets are $68 for Trustees members and $85 for nonmembers, with prices inclusive of demo, appetizers, a three-course dinner, dessert and one complimentary beverage. Ticket price also includes the option to visit the Boston Public Market with The Trustees for pre-dinner bites from a selection of Market vendors. Small groups will leave from the KITCHEN at 6PM and 6:15PM. Opt in for this bonus experience when you register. The Improper Bostonian is the media sponsor for this event. For additional event details including menu and to register, click here, email kitcheninfo(at)thetrustees.org, or call 978.578.5867 for more information. Become a Trustees member and receive discounts on many programs at The KITCHEN as well as at The Trustees' 114 properties across Massachusetts.
The Trustees, Massachusetts' largest conservation and preservation nonprofit, is a founding partner, vendor, and the programming partner of the Boston Public Market, offering daily events and programs at the 3,200 square foot, state-of-the art demonstration KITCHEN space. Run in tandem with the Market's hours of operation, programs are designed to connect Boston residents, commuters, and visitors to local food and healthy, active living. Programs include a diverse selection of free and paid hands-on classes and workshops, demos, lectures and special events for all ages and backgrounds and are conducted by Trustees experts and educators and program partners who share the passion for this mission. Partners include Blue Cross Blue Shield of Massachusetts, REI, Project Bread, various Market vendors, and many more. The spring programming schedule, which will include seasonal offerings focused on the themes of renewal and growth, in addition to regular tastings, cooking and fitness classes, is now available at visit thetrustees.org/KITCHEN.
The Boston Public Market, the nation's first permanent year-round market to feature all local vendors and partners, is located on the Rose Fitzgerald Kennedy Greenway directly above the Haymarket MBTA station. In addition to serving as The KITCHEN programming partner, The Trustees are also one of 37 New England-based vendors at the Market. The organization's Appleton Farms vendor booth, modeled after its on-site Dairy & Farm Store in Ipswich, features dairy products made from the Farm's Jersey dairy herd including bottled milk and a selection of aged and semi-soft farmstead cheeses as well as the largest selections of artisanal cheeses from award winning Massachusetts Cheese Guild members available under one roof, in addition to other local products. KITCHEN programs operate in conjunction with the Market's hours of operation, Wednesdays-Sundays, 8AM-8PM.
###
The Trustees preserve and care for some of the best of Massachusetts' natural, scenic, and cultural sites for the public to use and enjoy. Our passion is to engage more people in culture, agriculture, nature, and healthy, active lifestyles, using our properties, our community spaces, and our many programs as a powerful and compelling platform to connect people to places and each other in our increasingly digitized world. As the Commonwealth's largest conservation and preservation organization and nation's first land trust founded in 1891 and celebrating our 125th Anniversary this May, we believe in protecting the irreplaceable for everyone, forever. Today, we care for 114 spectacular and diverse reservations spanning more than 26,000 acres– from working farms, landscaped and urban gardens, and community parks, to barrier beaches, forests, campgrounds, inns and historic sites, many of which are National Historic Landmarks – located within minutes of every resident. Funded by our more than 125,000 members and supporters and 1.6 million visitors in 2015, we invite you to get out, get inspired, and find magic in the moment at a Trustees property near you: http://www.thetrustees.org
Chef Paul Wahlberg was born in the Boston neighborhood of Dorchester, one of nine siblings, which include his famous younger brothers, Actor Mark Wahlberg and Musician/Actor Donnie Wahlberg. While Mark and Donnie spent their childhood daydreaming of their inevitable rise to fame, Paul spent his time in the family kitchen with his mother Alma and watching Julia Child on TV. At the age of 12, Paul fell in love with food over a simple Eggplant Parmesan sandwich at a friend's house. According to Paul, his cooking was influenced by the Sunday suppers he shared at home with family and friends. A self taught chef, he began working as a caterer at the age of 16. After graduating high school, he spent time in several kitchens around Boston including The Charles Hotel, The Four Seasons and Bridgeman's in Hull, MA where he served as Executive Chef for nine years. Following Bridgeman's, Paul embarked on his first solo venture in 2010 with Alma Nove; an Italian, Mediterranean restaurant on the spectacular waterfront of Hingham, MA named after his mother, Alma, and the nine (nove in Italian) Wahlberg children. While Paul enjoys spending time in the Alma Nove kitchen creating elegant fine dining dishes, he has always dreamt of opening his own burger joint. In October 2011, Paul's dream came true when he and brothers, Mark and Donnie, launched Wahlburgers. Offering fresh made-to-order burgers, fries and frappes, the menu reflects a mix of all American classics and Wahlberg childhood favorites such as the Thanksgiving Day burger where Thanksgiving dinner meets the burger. Today, not only will you find Paul bouncing around between the Alma Nove and Wahlburgers kitchens, you'll see his vibrant presence in the front of the house as he takes time to greet and chat with guests who he treats as if they were family.