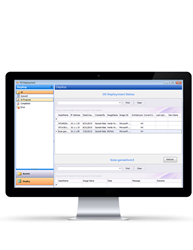 BOSS Deploy made our point-of-sale deployment seamless, allowing our staff to continue to focus on our guests while enabling IT to feel confident that our systems were updated to protect the financial data of our customers. Wes Marco, IT Director, Hooters
ATLANTA, GA (PRWEB) March 17, 2016
In response to demand from our global customer base of millions of users, BOSS is pleased to announce BOSS Deploy, a software solution simplify operating system (OS) deployment. The new addition to BOSS's IT Service Management products will allow customers to rapidly configure and deploy images from a centralized platform, improving efficiency and accuracy for IT departments
BOSS Deploy's zero touch imaging software, enables organizations to remotely install Microsoft operating systems along with applications to either a single or multiple devices at the click of a button, wherever they might be. BOSS Deploy improves service continuity during Windows migrations and application deployment projects whilst reducing the cyber security risks associated with running outdated software programs.
After successfully completing beta testing with Hooters of America, the iconic restaurant chain's IT Director, Wes Marco, had this to say about the product, "BOSS Deploy made our point-of-sale (POS) deployment seamless, allowing our staff to continue to focus on our guests while enabling IT to feel confident that our systems were updated to protect the financial data of our customers."
BOSS Deploy allows users to quickly build libraries of images for each business function of the organization as well as individual images for specific job functions. Providing versatile functionality along with an affordable price tag, BOSS Deploy integrates into existing IT infrastructures offering easy setup and requiring minimal training.
The initial beta testing of the BOSS Deploy product was released in February this year and after multiple customer installations, including Hooters of America, the product's favorable reception is increasing BOSS's market presence in the IT service management industry. Initial results from the Hooters beta have been extremely successful; the company has been able to realize a 50% improvement in deployment times since the implementation of BOSS Deploy
BOSS has a long history of providing superior asset management and service desk software; the new Deploy product will allow BOSS customers to increase on their service commitment to end users and maintain modern operating environments. You can download the on-demand webinar, which showcases all of the products features and functionality by visiting http://info.boss-solutions.com/boss-deploy-webinar-on-demand
About BOSS
Leveraging ITIL best practices, BOSS products including Service Desk, Asset Management and System Management, allow organizations of all sizes to maximize the benefits of IT Service Management by delivering cost effective and scalable solutions that enable greater collaboration between IT teams and business units. With more than 1,000,000 users globally, the BOSS Support Central suite provides the most cost effective, integrated ITSM software solution in the industry.