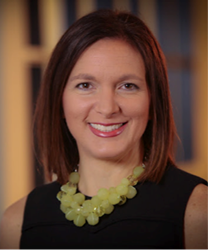 At this very moment, small businesses across the U.S. hold on their books more than $1.2 trillion in trade credit.
Washington, DC (PRWEB) March 16, 2016
NOW Corp CEO Lara Hodgson has been invited to share her outlook on the challenges and future of small business finance today during the U.S. Chamber of Commerce's Center for Capital Markets Competitiveness (CCMC) 10th Annual Capital Markets Summit: The Foundation of Economic Growth. Open and vibrant capital markets are the foundation of our economy, driving growth and creating opportunity for individuals, businesses, and the country. During her address, Hodgson will assert that while peer-to-peer (P2P) lending was one of the hottest industries in 2015, there is a much more efficient, cost-effective, and sustainable method for connecting small businesses with growth funding from the capital markets.
"At this very moment, small businesses across the U.S. hold on their books more than $1.2 trillion in trade credit," said Hodgson. "In effect, these are loans to their commercial and government customers disguised as an invoice. Collectively, small B2B and B2G businesses are a larger lender than any bank in this country."
In fact, in 2014, small businesses originated more than $10 trillion of trade credit and funded the cost and risk of this credit on their balance sheets. While 98 percent of all consumer credit has been outsourced to financial institutions and the capital markets, typically in the form of credit card payments, the burden of more than 95 percent of trade credit continues to be borne by businesses themselves, much of this by small businesses that often carry a significantly higher cost of capital than the customers to whom they are providing credit.
"This is a huge inefficiency in our market, but one that cannot be solved by forcing large businesses to pay their suppliers faster," explained Hodgson. "Large businesses have built the free and flexible capital that they get from accounts payable into their capital stack. To be forced to give this up would mean that the net earnings of U.S. businesses would fall by more than 10 percent."
With the bulk of their capital tied up in accounts receivables, small business growth is stymied. And while accessing debt to manage the problem works for some small businesses, for many it is not the right solution, and it creates yet another burden that causes many small businesses to "grow" out of business rather than "go" out of business. However, the fact that large businesses cannot pay faster does not mean that small business suppliers cannot be paid faster. Imagine what would happen if small B2B and B2G businesses were relieved of this burden.
"Fifty years ago the credit card merchant service system effectively relieved B2C merchants of the burden of funding consumer credit, and the B2C portion of the economy exploded," said Hodgson. "The same thing is happening at an even greater magnitude for businesses in B2B and B2G with the introduction of NOWaccount®."
NOWaccount is the first payment solution that enables small B2B/B2G businesses to get paid their actual revenue immediately and in a way that is not a loan or factoring, but rather feels like and costs the same or less than accepting a credit card for payment. However, unlike with credit card payments, NOWaccount does not impact the behavior of their customers, which continue to receive the invoice and pay according to their own schedules. With NOWaccount, small businesses are now growing exponentially, and they are funding growth with their own cash flow from operations, which in turn enables them to more safely and cost-effectively access other financial tools such as bank lines and SBA loans.
"The key to successfully growing a business is to use the right capital at the right time for the right use," concluded Hodgson. "For most small businesses, the right use for their capital is not a free loan to their customers. Small businesses would like to get out of the business of being a bank, of being a P2P lender, and NOW they can."
"Our financial services industry, made up of small and large banks, institutional investors, broker-dealers and many others, provides the fuel for our engine of economic growth," said U.S. Chamber President and CEO Thomas J. Donohue. The U.S. Chamber will unveil a new program called "Financing America's Economic Growth" during the Summit today, where Hodgson will be joined by fellow presenters:

Paul Atkins, Chief Executive Officer, Patomak Global Partners
Walt Bettinger, President and Chief Executive Officer, The Charles Schwab Corporation
Mike Chinn, President, S&P Global Market Intelligence
Arthur B. Culvahouse, Jr., Partner, O'Melveny & Myers LLP
U.S. Senator Joe Donnelly (IN)
Tom Donohue, President and Chief Executive Officer, U.S. Chamber of Commerce
Christine Edwards, Partner, Winston & Strawn LLP
Commissioner Chris Giancarlo, U.S. Commodity Futures Trading Commission
John Hailer, President and Chief Executive Officer, Natixis Global Asset Management
U.S. Congressman French Hill (AR-2)
Lord Jonathan Hill, European Commissioner for Financial Stability, Financial Services, and Capital Markets Union
David Hirschmann, President and CEO, CCMC
J.J. Johnson, Chairman, Center for Capital Markets Competitiveness (CCMC), Executive Vice President, Public Affairs & Policy Group, Fidelity Investments
Joseph Laurin, President, Fidelity Health Group
Martin Lippert, Executive Vice President and Head, Global Technology and Operations, MetLife
U.S. Congressman Randy Neugebauer (TX-19)
Jeff Peck, Partner, Peck Madigan Jones
Jason Thomas, Chief, Innovation, Thomson Reuters Special Services
Daniel Seltzer, Chief Technology Officer, The Credit Junction
U.S. Senator Pat Toomey (PA)
Antonio Weiss, Counselor to the Secretary of the Treasury, U.S. Department of Treasury
Chair Mary Jo White, U.S. Securities and Exchange Commission
The Summit brings together more than 300 attendees from the business community and government leaders. This year, the Summit will examine the current state of the capital markets, at home and abroad, and explore what changes are necessary to ensure these markets are modernized and well regulated. The address also will be available via live stream at http://bit.ly/1RIWjLO.
About NOW Corp
NOW Corp is a certified women-owned business founded in December 2010 to enable small businesses to grow, create jobs, and to stimulate the U.S. economy. Recognizing an inefficiency in the $32 trillion trade credit sector, the founders leveraged their engineering and entrepreneurial backgrounds to create NOWaccount®, an innovative new payment solution that allows small businesses to get paid their actual revenue immediately, in a way that is not a loan, not factoring, feels like but costs less than accepting a credit card for payment, and is invisible to their customers. Since launching NOWaccount, NOW Corp has empowered small businesses across the nation to GROW FEARLESSLY!™, often resulting in triple-digit revenue growth within the first year of enrollment. For more information, visit http://www.nowcorp.com.