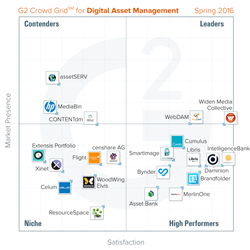 Chicago (PRWEB) March 16, 2016
G2 Crowd, the world's leading business software review platform, today released the Spring 2016 Digital Asset Management Software Grid report to help businesses make the best DAM technology decision. Widen Media Collective and WebDAM were named Leaders in the report, receiving strong customer satisfaction scores with a large market presence. IntelligenceBank DAM, Daminion, Cumulus by Canto, Libris, Brandfolder, Smartimage, Bynder, MerlinOne, and Asset Bank were named High Performers in the report, earning strong customer satisfaction marks with smaller market presence scores. Widen Media Collective earned the highest overall satisfaction score, while assetSERV earned the highest overall market presence score.
The Grid leverages customer satisfaction data reported by authenticated users along with vendor market presence determined from social and public data. Based on a combination of these scores, each software solution is categorized as a Leader, High Performer, Contender, or Niche.
Key Findings:

Leadership Found — This is the first DAM report in which any product ranked highly enough in satisfaction and market presence to be considered a Leader. Widen and WebDAM pushed just past the market presence line to claim the first DAM Leader titles.
DAM Good Customer Experience — Digital Asset Management vendors are leading the B2B world in customer experience. The average rating of doing business with 21 DAM vendors is a high 90 percent satisfaction. Customer support is rated just below it at 89 percent satisfaction. Almost all Leaders and High Performers rank in the upper 90th percentiles for both.
Nailing Down Worth — The average time to ROI for a DAM system in this report was ten months. Three out of the four products with substantive number of enterprise reviews were 14 months or higher. These are especially high payback periods. This may mean DAM products do not bring as much value for their price as other types of software, but they could also receive lower scores because the software's main benefit is difficult-to-quantify productivity.
Search is King — "Search" dominates reviewers' thoughts on DAM products. It was mentioned almost 300 times throughout reviews—100 times in "likes" specifically, and 50 times in "dislikes." For comparison, "integrations" were only mentioned 100 times, and "mobile" access only 50.
About the Digital Asset Management Software Grid report:

The report is based on more than 575 reviews written by business professionals.
Of the roughly 92 products listed in G2 Crowd's Digital Asset Management software category, the ranked products each received ten or more reviews to qualify for inclusion on the Grid.
About G2 Crowd, Inc.
G2 Crowd, the world's leading business software review platform, leverages more than 60,000 user reviews to drive better purchasing decisions. Technology buyers, investors, and analysts use the site to compare and select the best software based on peer reviews and synthesized social data. Monthly more than a half-million people visit G2 Crowd's site. Co-founded by the founder and former executives from SaaS leader BigMachines and backed by roughly $12 million in capital, G2 Crowd aims to bring authenticity and transparency to business technology research. For more information, go to G2Crowd.com.