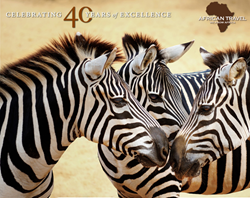 No matter where you are coming from, we are committed to offering a range of safaris that will provide the safari of your dreams at any price point.
DELRAY BEACH, Fla. (PRWEB) March 16, 2016
African Travel, Inc. is celebrating four decades of providing industry-leading African safaris by offering special promotions each month beginning in April. Guests are encouraged to sign up for African Travel's newsletter in order to receive these discounted birthday offers for the remainder of 2016.
"We are extremely proud to celebrate this important milestone and are perennially grateful to our incredible guests who have made it possible," said Sherwin Banda, president, African Travel. "Africa is an enticing destination, a once-in-a-lifetime opportunity for some and an exotic tradition for others. No matter where you are coming from, we are committed to offering a range of safaris that will provide the safari of your dreams at any price point."
African Travel's celebratory legacy of excellence is evident from its continued industry recognition, including being named the "Best Tour Operator to Africa" by Recommend readers and the #3 Top Safari Outfitter in Travel + Leisure's coveted World's Best Awards. With 40 years of experience, African Travel is the longest established North American travel company that focuses exclusively on Africa.
Guests can visit African Travel's website and sign up for the newsletter.
For more information and to book the safari of your dreams, contact your favorite Travel Professional, call African Travel, Inc. at (800) 421-8907, or visit http://www.africantravelinc.com. CST 2071444-20
Don't forget to check out African Travel, Inc.'s Journal Page! Get travel tips, photos and testimonials, and stories from the bush. Subscribe to the RSS feed to get all of these things in one place!
Follow African Travel, Inc. on Facebook, Twitter and Pinterest, and join the conversation using the hashtag #WeKnowAfrica.
About African Travel, Inc. - "We Know Africa"
African Travel, Inc. is a 40-year-old safari operator, with operations in Africa and the USA, offering customized and locally-hosted safaris to Africa at all price points. The company's focus is solely on planning and operating safaris in Africa. We have dedicated, experienced teams in Africa, Safari Specialists in the USA, an extensive transportation fleet, numerous hotels, camps and lodges throughout The Travel Corporation's Africa-based associate companies. Refer to AfricanTravelInc.com for a wide variety of ideas and safaris.
About USTOA
African Travel, Inc. shares the coverage available under the USTOA $1 Million Travelers Assistance Program with affiliates of TravCorp USA, Inc. In addition, TravCorp Financial Services Limited provides a guarantee of $20 Million.
About The TreadRight Foundation
Created as a joint initiative between The Travel Corporation's family of brands, The TreadRight Foundation is a not-for-profit working to ensure the environment and communities we visit remain vibrant for generations to come. To date, TreadRight has more than 35 sustainable tourism projects worldwide. The foundation's guiding principle is to encourage sustainable tourism development through conservation, leadership and support for communities.
TreadRight's past project partners include WWF, Conservation International and The National Trust in the UK. Current initiatives include sponsoring the National Geographic Society's inaugural "World Legacy Awards," helping to combat wildlife crime with WildAid, and empowering individuals with the Alliance for Artisan Enterprise.
To learn more about our past and current work at TreadRight, please visit us at TreadRight.org.
###